Sustainable Campus

The School of Continuing Studies' LEED Gold® certified campus exemplifies the convergence of leading green building practices and strategic forethought. The facilities are designed for long-term energy efficiency and positioned to take advantage of Washington, D.C.'s public transportation system.
Green Building Features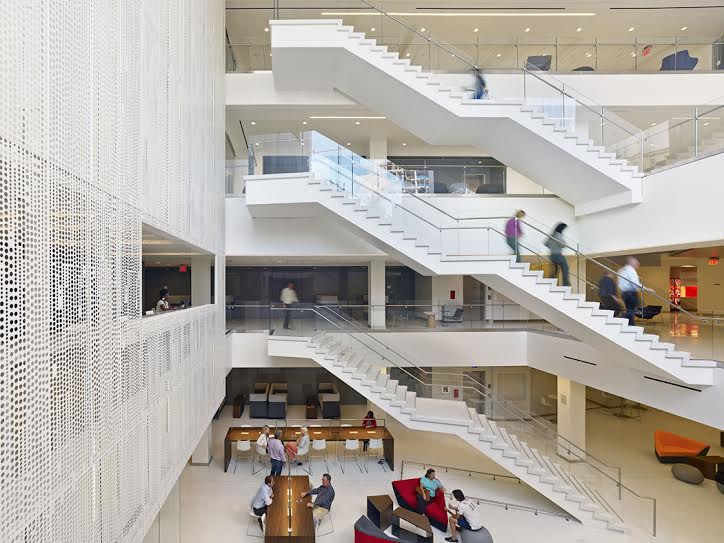 Working with STUDIOS Architecture, Georgetown designed facilities to create a sustainable learning, teaching and working environment for students, faculty and staff. 640 Massachusetts Ave NW is recognized by the U.S. Green Building Council as a LEED Gold certified campus.
Sustainable Materials
Georgetown integrated safe and sustainable building materials and measures into the design and construction of the campus.
Recycled and regionally extracted materials used for construction and furniture
Greenguard Certified furniture (Low Volatile Organic Compound)
75% of construction waste diverted from landfill
Energy Efficiency
The School's campus is designed for long-term energy efficiency, with sustainable processes and initiatives built into the building's operations.
Efficient cooling system and ventilation
Power saving LED and fluorescent lighting
Use of glass to provide natural lighting wherever possible
ENERGY STAR appliances and equipment
Water efficient plumbing fixtures
Separate metering of utilities for accountability in energy and water consumption
Refillable water stations
Paper, glass and plastic recycling program
Sustainable housekeeping program
Public Transportation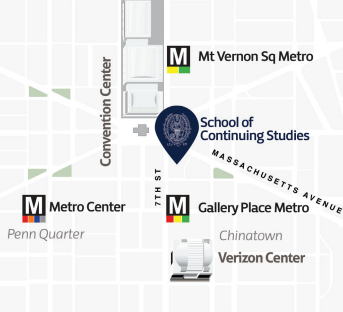 With a perfect Transit Score of 100, the School is located in one of the most accessible areas of Washington, D.C., with easy access to public transportation within blocks of campus.
All six Metro Rail lines
Metro Bus stops
Capital Bikeshare docking stations
D.C. Circulator bus stops
Union Station rail and bus services
Secure bike racks
Campus Sustainability Tours
SCS offers monthly tours of the sustainable campus at 640 Massachusetts Ave NW. To register for a tour, please contact Andrew Glass at ajg68@georgetown.edu.
The LEED Gold® Certification trademark is owned by the U.S. Green Building Council and is used with permission.