Leadership Expert Joins Bachelor of Arts in Liberal Studies Faculty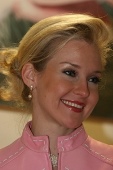 Nan Ellen Nelson (G '05) joins the School of Continuing Studies faculty this Spring as the new instructor of the first-ever offering of the course Character, Conscience, and Courage for the Bachelor of Arts in Liberal Studies (BALS) program.
Bringing a Firm Foundation of Leadership into the Classroom
Nelson, a graduate of the Executive Master's in Leadership (EML) program at Georgetown, is also a former White House appointee to the Peace Corps headquarters in Washington, DC.
In 2007, Nelson worked with young leaders in Israel, the Palestinian Territory, Jordan, and Ethiopia to develop young women leaders and encourage an interfaith dialogue. Her work overseas inspired her to launch her own leadership development business in the United States to empower emerging leaders in moral, servant and authentic leadership. These experiences have further motivated her to continue to inspire young leaders to seek their potential in their sphere of influence.
"Nan Ellen has a very strong drive to public service that is quite consistent with Jesuit values and the mission of the School of Continuing Studies. I am confident that she will help inspire her BALS students to grow into men and women for others,'" said Associate Dean Vincent Kiernan. "Her leadership skills will enhance and enrich the leadership track within the BALS program."
When the opportunity to teach at Georgetown arose, she did not have to think twice about accepting the position.
"I am honored to give back to such a solid institution," Nelson says. "My hope is that the students taking my courses will be empowered to live with character, conscience and courage. And, in doing so, they will find their authentic voice to live a difference, making the world a better place."
Applying Real-World Insight
The new course will focus on the roles of character and conscience in the demonstration of moral courage by leaders. In addition, the course will cover the key components that provide one with the courage to take moral action. Particular attention will be given to the individual, interpersonal, and institutional processes of character and conscience formation.
Six nationally known guest speakers will facilitate class discussions. The guest lecturers include U.S. Senator Bill Nelson, an astronaut, a congressman, an ambassador, and a former director of the White House Office of Faith-based Initiatives. One of the class meetings will be held at the U.S. Capitol with U.S. Senator Bill Nelson's spouse, Grace Nelson.
Topics covered during the course will include "Courageous Leadership: Taking Risks and Persevering," as well as using character-building experiences to tap into one's courage and inner-fortitude, paying attention to one's conscience and having the courage to lead.

----

The Georgetown University School of Continuing Studies offers master's programs, professional certificates, and a bachelor's, master's, and doctoral degree in Liberal Studies. These programs offer an applied learning experience enabling professional and personal advancement. Improve yourself and positively impact the world, all while creating a network of valuable relationships. For more information, please visit , Twitter, and Facebook.