Weaving Diversity into the Fabric of Business
Georgetown University Hosts Roundtable for Diversity Leaders
More than 30 business and human resources thought leaders attended the Talent Management Diversity Roundtable, May 14-15, 2012, hosted by the Georgetown University School of Continuing Studies through its Human Resources Management graduate degree program.
The mission: Redefine the space and practice of diversity, inclusion and talent management – especially in the minds of corporate leaders who remain slow to embrace diversity's strategic business advantages.
"We gathered together the nation's top diversity leaders to share knowledge on the alignment of integrated talent management, diversity and inclusion management (D&I) strategies with sustainable business results," said Dr. Christopher Metzler, Senior Associate Dean of Applied Management Degrees at Georgetown University's School of Continuing Studies. "From here we must continue to align other senior business leaders with the rapidly changing face of customers and employees throughout the world."
The event, co-sponsored by Hiedrick & Struggles, a worldwide leadership advisory firm, was held in the Fisher Colloquium of the Rafik B. Hariri Building on Georgetown University's main campus in Washington, D.C. The Hariri Building is home of the state-of-the-art amenities for the McDonough School of Business.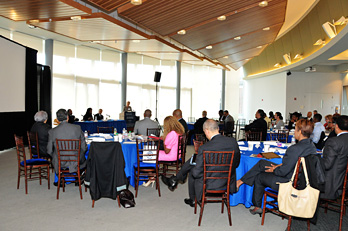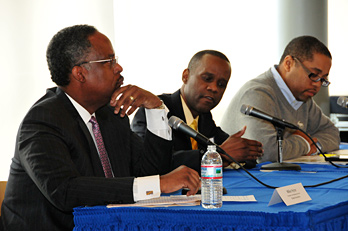 Getting the Diversity Conversation Started
Evolving the conversation around diversity and inclusion is critical, said attendee Monica Pool Ross, a diversity officer for Sony Electronics Inc. "Where are we going with this work? What are the implications in terms of the changes that are happening around the world on the demographics side? And how are we responding to that as leaders in this function?"
"I think for too long now we as D&I practitioners have been talking amongst ourselves and I think it needs to move from our language of D&I speak to language that really mobilizes an organization to look at its bottom line as well as its cultural dynamics," agreed Ron Parker, interim president and CEO of the Executive Leadership Council. Diversity must be woven "deeper into the fabric of organizations and up the ladder to corporate executives who have the power to drive change."
"[Diversity] has to be more than a feel-good moment on paper," said Sheila LeVons-Stokes, director of the Division of Complaints Management and Resolution at the National Institute of Health. "We have to be able to talk about it candidly."
Diversity & Inclusion Challenges
In addition to getting the conversation started, the attendees agreed that diversity and inclusion management leaders must also work with top executives to:
Infuse diversity and inclusion management into strategies that drive innovation, operational efficiencies and better customer service experiences.
Create larger pipelines of diverse leaders and, thus, increase diversity at the top levels of organizations.
Improve how non-traditional workforces are managed and connected with business strategies.
Build more dynamic corporate cultures and work teams through D&I leadership.
Provide mid-level and line managers with more tools to make diversity initiatives work.
Address emerging diversity issues such as better onboarding, management and promotion of the Millennial Generation, veterans, and the lesbian, gay, bisexual and transgender (LGBT) community.
Gut-Check Time for Diversity Leaders
"I'm very passionate about our field and I think we need to continue taking it to the next level," said Rosa Colon-Kolacko, chief diversity officer at Christian Care. "Changing the language and the conversation to a different level is important."
Passion and putting a leader in charge of D&I programs is critical, according to a Heidrick & Struggles survey of Fortune 500 companies. Of the 490 companies analyzed by the firm, 307 have an executive role designated for diversity. "Strikingly, the higher a company ranks on the Fortune list, the more likely it is to have a diversity officer," writes Billy Dexter in the firm's report, The Chief Diversity Officer Today: Inclusion Gets Down to Business.
At the end of the day, however, the success of a diversity program or chief diversity officer "comes down to an inescapable fact: almost all of the policies, initiatives and strategies that come under the heading of diversity usually depend on others for execution," according to Dexter, who also attended the roundtable.
That will require a rebranding of the practice and will create – for diversity managers – "many gut-checking moments where you have to help [business leaders] drive change," said Monica Hawkins, a faculty member of Georgetown University's Master of Professional Studies in Human Resources Management.
"Having demographic conversations in the context of business speak has been tough for this industry," she said. "But I think we have the opportunity to do that."