Georgetown Staff Member Travels to Ghana to Distribute Malaria Nets
February 21, 2014 – Georgetown School of Continuing Studies staff member Trey Sullivan, who serves as the program manager for the Bachelor of Arts in Liberal Studies (BALS) program— the university's only part-time bachelor's program—recently escaped our region's polar vortex to spend Jesuit Heritage Week delivering insecticide-treated bed nets to families in Ghana. Working with an organization called His Nets, Sullivan did his part to stem the malaria epidemic and save lives.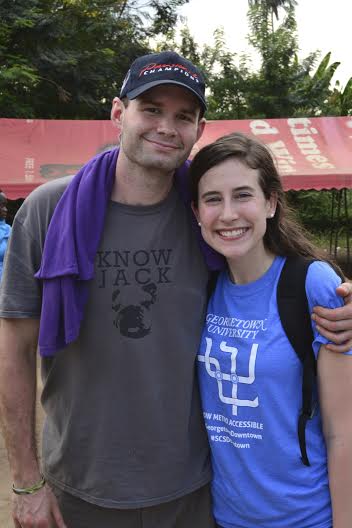 Trey and Andi Sullivan representing Georgetown at Noka Clinic in Ghana's Eastern Region
"Working with our U.S. partner Kairos 10 and a local Ghanaian ministry, we focused on Ghana's Eastern Region for this trip. We handed out close to 500 bed nets to villagers," explained Andi Sullivan, Trey's wife and founder of His Nets. "It is so rewarding to work as an agent of change."
A non-profit, 501(c)(3) organization, His Nets is working hard to raise awareness of the global malaria crisis by mobilizing Christians and other groups. Their hands-on trips to sub-Saharan Africa—as well as Burma, Haiti, India, and Pakistan—have saved approximately 280,000 lives while improving the quality of life for families in high malarial areas.
An Immediate Impact
Few people realize that there are over one million deaths from malaria each year and ninety percent of the cases are in Africa. The nets Trey and Andi Sullivan and the His Nets team delivered will make an immediate impact. Each net protects families from mosquitoes, and therefore malaria, for up to four years. In fact, bed nets have been proven to cut the incidents of malaria infection by half.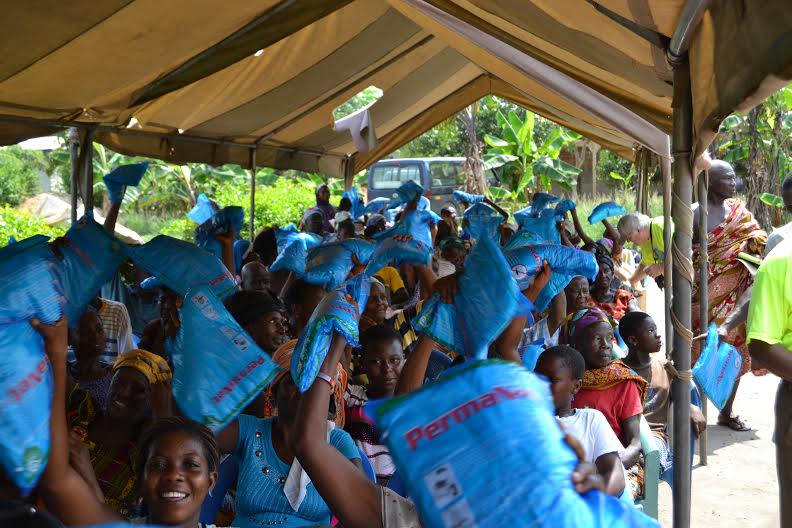 Net distribution in Asamankese
"In addition to visiting four schools to teach children about malaria, we toured small villages and helped the doctors from Kairos 10 set up clinics. In my free time, I played soccer with the local kids," said Trey Sullivan. "The whole trip opened up a new reality to me. I think I understand the meaning of gratitude better now. I'm seeing everything in a new light."
Women and Men for Others
In his role as BALS program manager, Sullivan interacts with students and faculty and helps ensure the program is infused with Georgetown's Catholic and Jesuit values and heritage.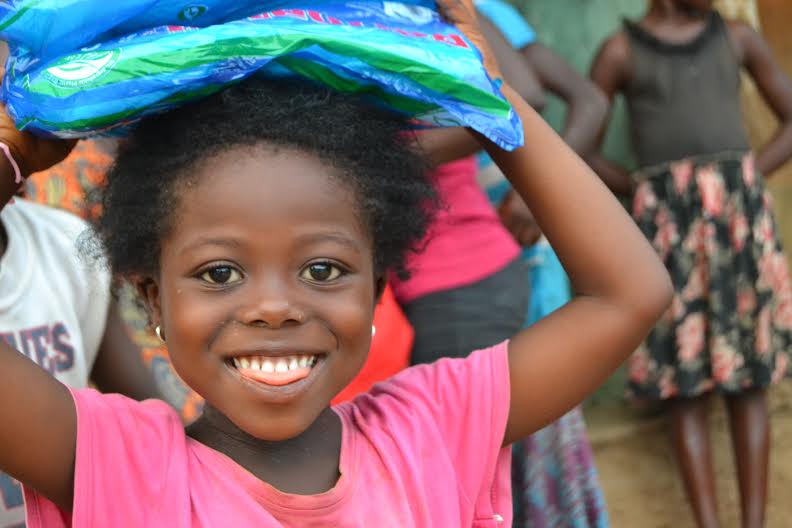 Child with bed net after distribution in a small village of Amedi, Ghana
The program's mission is to provide a high-quality undergraduate education, rooted in the liberal studies approach and the Jesuit tradition of forming "women and men for others."
"I love to see our students and staff members put Jesuit values into action," said Vincent Kiernan, associate dean of the program. "By spending their vacation on such a meaningful task, Trey and his wife Andi are providing all of us with an important example of what it means to be 'men and women for others.' We want our Bachelor of Liberal Studies candidates to follow their lead and embrace social justice missions in our community and throughout the world."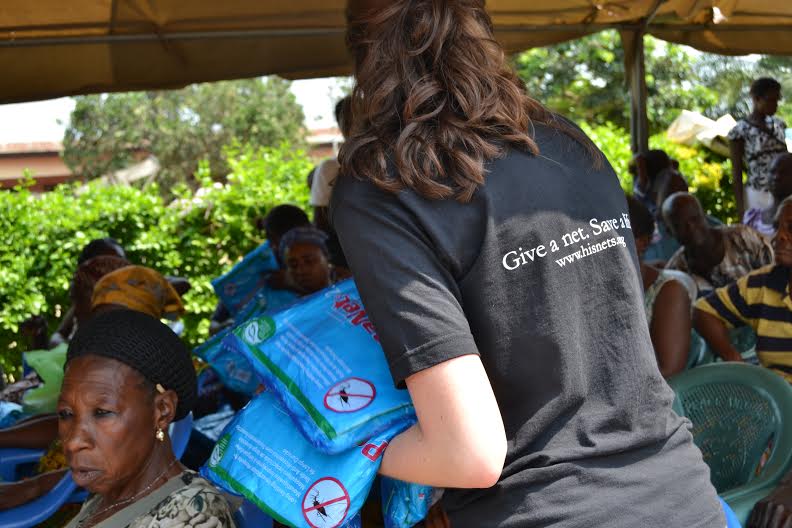 Andi Sullivan handing out bed nets and educating about malaria
The BALS curriculum begins with an ethics course that lays a theoretical foundation and gets students thinking about how they can make a difference in society. Students who choose ethics as a concentration may opt for courses related to moral leadership, human rights and public service. There are opportunities for international travel within the program curriculum so as to expand the world view of each student.
Related Information
Bachelor of Arts in Liberal Studies Program »
School of Continuing Studies »
His Nets »
Jesuit Heritage Week »