Cultural IQ: The New Differentiator for Career Advancement
Cultural IQ: The New Differentiator for Career Advancement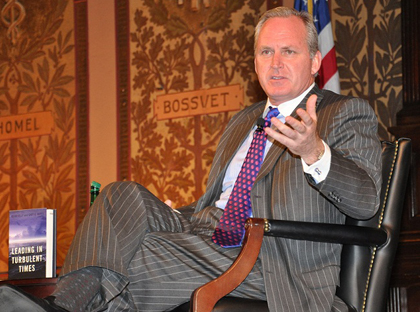 WASHINGTON, D.C., Feb. 26, 2013 – In today's global economy, gaining a competitive advantage in the job market requires having a high cultural quotient or CQ, advises Kevin Kelly, the CEO of Heidrick & Struggles, a leading executive search and leadership consulting firm.
"We cannot find enough talent today that can navigate through different cultures across the globe," Kelly said during a February 12 Candid Conversations interview at Georgetown University's Gaston Hall. Candid Conversations is a regular series of interviews conducted by Dr. Christopher Metzler, Senior Associate Dean for Applied Management Programs at the Georgetown University School of Continuing Studies.
Guests and students from the university's Master of Professional Studies in Human Resources Management, Semester in Washington, D.C., and other programs attended the event to hear Kelly's insights about the job market, both from the perspective of employers and job seekers.
The Cultural Quotient Job Advantage
CQ is the new talent differentiator, said Kelly, who is also the author and co-author of several books, including Leading in Turbulent Times, which provides a world business view from the eyes of 36 CEOs. Having a high IQ is a given on the world stage, a box that can be checked by the master's students and alum of Georgetown. Emotional intelligence is also critical. But it is CQ that really stands out in today's global marketplace.
"That's, quite frankly, what we're looking for today," he said. "It's about the CQ, the cultural quotient or corporate culture and how to drive that culture globally."
And for most students, that means taking advantage of opportunities to gain experience working in other countries.
"Take the risk to work in another country. By doing that . . . you gain the international experience that's going to help you in your career."
Global Leadership Challenges
Kelly also weighed in on many other leadership challenges in the 21st century:
Leadership style needed for multigenerational, global organizations: "It's more about leading from the center, engaging people, getting them motivated to want to come to work every day and perform for you."
Most common mistake made by younger executives: Not thinking holistically about the impact a decision will make on each division and region in which the company operates.
Best way to keep people from changing jobs: Keep workers interested in what they're doing. Learning and interest in what one is doing trumps compensation for job satisfaction, Kelly said.
Biggest networking mistake: Expecting immediate results. "Networking takes time because it's a matter of trust."
Most important skills to have when navigating complex organizations: Patience.
Managing Generational Differences
In addition to cultural differences, Kelly said today's CEO's are struggling to manage generational differences. Motivating Generation Y, born between 1978 and 2005, "is a huge [generation] gap today that we have to bridge in terms of [management] expectations," he said.
For example, how can leaders balance long-term corporate goals with a workforce that – more and more – seeks instant gratification and is more willing to change jobs frequently? While social media tools provide instant feedback, how can organizations encourage and benefit from deeper face-to-face conversations? Is it time to rethink old management tools such as performance appraisal systems that are too slow to keep pace with employee expectations?
"Today's leaders have to be very malleable and agile in terms of responsiveness, thoughtfulness and patience," Kelly concluded.