HR Students Return from London, Concluding 5th Annual Global Immersion Project
As part of an exciting educational opportunity to experience human resources on the global level, students and accompanying staff from the Master's in Human Resources Management program recently returned from London, the bustling location of the fifth annual Global HR Immersion Class.
| | |
| --- | --- |
| | Adam Day, Director of Diversity & Inclusion at Nike Inc., presents on the Girl Effect, the Nike Foundation's international philanthropic movement aimed at investing in the untapped potential of adolescent girls to better communities across the world. |
Hands-On Learning at Leading Organizations
The Global HR Immersion Class, co-hosted this year by Bank of America Merrill Lynch, exposes students to the international challenges in diversity, HR and Social Enterprise challenges. During the intensive, weeklong trip, 14 students worked with the teams of the following partner organizations: Abercrombie & Fitch, Johnson & Johnson, Wells Fargo, Bank of America, Nike and PepsiCo
Each day was dedicated to studying the human resources practices of these multi-national organizations via case studies, experiential learning and debriefing sessions. While simultaneously navigating cultural differences – a practice integral to international human resources – students then designed, developed and presented global business initiatives and solutions to the chief diversity officers of each company.

Dr. Christopher Metzler, Senior Associate Dean at Georgetown University School of Continuing Studies, presenting on behalf of Wells Fargo on recruiting and engaging Millennial talent.
"I saw how Abercrombie & Fitch connected their HR plans and policies back to their overall brand and strategy," said student Aaron Anker (G'14). "Bank of America explained how they use campus recruiting to find the best talent and diversify their workforce. Nike goes beyond best practices and truly drives diversity and inclusion into their everyday workplace. I valued seeing classroom concepts come alive."
Reflecting on Global HR Practices
The trip concluded with a tour of the University of Oxford. Students then gathered for a closing dinner at the Malmaison Oxford, a former prison castle converted into a boutique hotel, where they reflected on their experiences during the study abroad program and the skills that they gained during their week in England.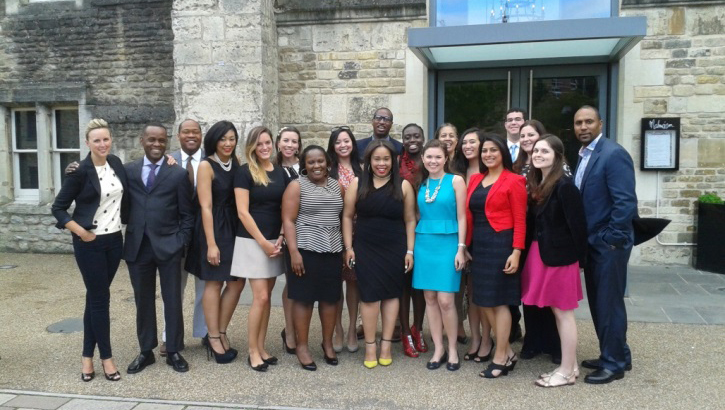 Students and staff of the Global HR Immersion Class, in front of the Malmaison Oxford.
"Visiting the Nike office in London was one of my favorite segments of the trip," said student Amanda Gancayco (G'14), whose program concentration is in Strategic Human Capital. "I enjoyed learning about 'The Girl Effect' and the possibilities that can stem from intersecting such a worthy cause with Nike's innovative branding and communication techniques to incite social change."
As planning commences for next summer's sixth annual Global HR Immersion Class, locations under consideration include Doha, Qatar, or Istanbul, Turkey. "HR is a global practice," said Christopher Metzler, Ph.D., who is senior associate dean of the human resources management program. "Thus, we educate our students to develop global HR practice skills that give them a competitive advantage."