Mission and Learning Goals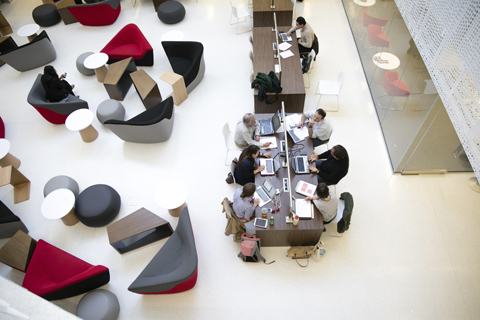 Journalism Capstone students meet in the atrium of the Georgetown Downtown campus as part of their group workshop session. (Credit: Serena Kefayeh)
Mission Statement
The Georgetown University Master's in Journalism program is committed to preparing students to be curious, responsible, and successful journalists in the digital age. Through demanding coursework taught by industry leaders and intensive practice, students develop a strong foundation of digital and entrepreneurial skills that are built on the core principles of accurate and fair reporting, sophisticated storytelling, and sound, ethical judgment.
Learning Goals
Students who complete the program will:
Understand the ethical implications of the choices journalists make in their careers and in their lives. Students will develop and exercise a core set of journalistic principles and values.
Absorb the fundamentals of accurate and fair reporting. Students will understand what qualifies as news, how to gather and verify information, and how to effectively provide alternative points of view.
Acquire strong news-writing skills that will enable them to tell compelling stories while meeting strict deadlines.
Master multimedia storytelling techniques across platforms. Students will be able to combine the latest reporting and storytelling technologies with time-honored techniques of traditional journalism.
Understand the media business landscape and be prepared to adapt their skills to the evolving industry.
---

"During my two years in the program, I was given opportunities to think in new ways and produce meaningful work. I was also encouraged by my peers and professors to try to publish my work, which resulted in a portfolio of clips by the time I'd graduated."
– Jessica Weiss (G'11)

---
See which communications master's degree is right for you
Alumni Highlight
Journalism Alumni Profile: Paul Rigney
Read More