Students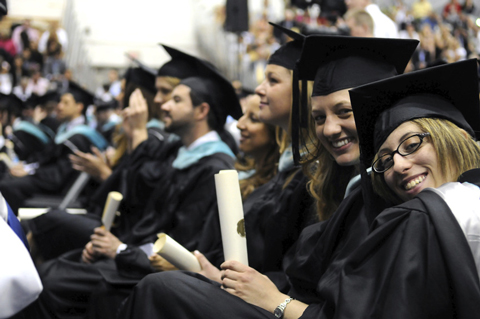 MPS Journalism students celebrate their graduation at Georgetown's commencement ceremony. (Credit: Serena Kefayeh)
The student body of Georgetown's Journalism program is one of the most diverse among all journalism master's programs in the country, according to Diverse Issues in Higher Education. Students come from all over the United States and more than a dozen countries, bringing with them a wide range of backgrounds, perspectives, and experiences.
Students generally fall into one of three categories:
Students coming directly from an undergraduate program or a few years out of college who are early on in their media and journalism careers.
Students with five to seven years of work experience in another field who are looking to break into journalism.
Students with more than 10 years of journalism experience who want to refresh their skill sets and advance to the next level in their careers.
Why Students Chose Georgetown
Freedom to tailor the degree: "I knew that I wanted to do consumer lifestyle writing, and thought the program would help hone my skills. I write about travel, spas, fashion, and sometimes food or nightlife. I love that beyond the few required courses, I could take nearly any class in the program and apply the skills to my lifestyle beat, even if the class wasn't specifically tailored to that topic." – McLean Robbins (G'12)
Faculty of experienced professionals: "What made Georgetown appealing to me was the experience and diverse backgrounds of the faculty. Georgetown offered courses in areas I wanted to improve in, like Beat Reporting, where my writing improved immensely; Narrative Nonfiction, where I learned to expand little details and to begin stories in the middle at a high point in the action; and Business Reporting, where I was taught that precision was key. I was looking for a graduate program that would allow me to work in the field and provide access to working journalists and internships." – Luis Velarde (G'13)
Opportunity to go beyond the comfort zone: "I wanted a broader writing experience and insight. I took classes like Covering Capitol Hill, Investigative Journalism, and Narrative Nonfiction, which threw me into unknown territory and forced me to learn a style that was far different than my weekly column. My writing has improved, and I learned a lot of new style techniques from the professors who taught me." – Katie Boehret (G'12)
See which communications master's degree is right for you
Alumni Highlight
Journalism Alumni Profile: Paul Rigney
Read More