Journalism Program Hosts Screening of <i>Page One: Inside The New York Times</i> and Q-and-A with the Director and Producer
The stars at The New York Times are not in short supply, as anyone familiar with the paper knows. Food writer Amanda Hesser, book critic Michiko Kakutani, and columnist Frank Rich all rose to fame as their bylines were pressed onto the Times' pages over the years. Yet director Andrew Rossi managed to discover the perfect star in David Carr to punctuate the paper's modern storyline in "Page One: Inside The New York Times," a documentary that takes viewers behind the scenes of the distinguished news outlet.
More than 200 people gathered at Georgetown University's Intercultural Center Auditorium on October 25, 2011 for a special screening of the film hosted by the Master of Professional Studies in Journalism Program. The screening was followed by a question and answer session with the film's director Andrew Rossi, and producer Kate Novack. The documentary follows Carr and his colleagues on the media desk through the paper's landmark stories - from the historical Pentagon Papers to the recent Wikileaks crisis - all while addressing the changes in the journalism industry. Twitter made a prominent appearance in the film, as did the looming daily deadline that controls the editors' every move.
Carr appears as the cranky-cool, seen-it-all personification of a seasoned New York journalist. He has a history in Washington D.C. as an editor for The Washington City Paper, but his story did not begin there. A former drug addict and single dad on welfare, Carr struggled to find balance in his life. It appears journalism may have saved him. "If you work for the media long enough, eventually you'll type your way back to your own doorstep," he says in the film.
Director Andrew Rossi and producer Kate Novack, who co-wrote the film, held a Q-and-A session moderated by MPS Journalism faculty member Howard Yoon after the screening. Questions included how the documentary was filmed, how much access the crew was granted and how the two believed that The New York Times is reacting to the changing nature of mainstream media. Click on the video below to view Howard Yoon's opening remarks, and the Q-and-A.
Video shot by MPS Journalism student Christopher Siler, edited by Serena Kefayeh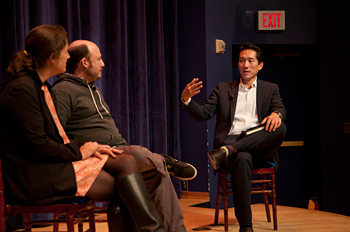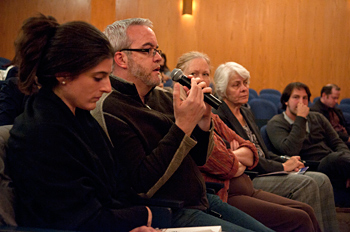 Photos by Serena Kefayeh