Journalism Faculty, Alumni and Student Honored at 2012 Dateline Awards
Photo courtesy of James Parenti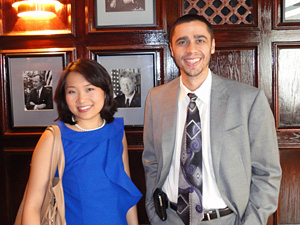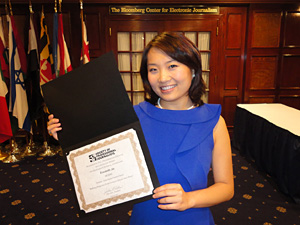 Photos by James Parenti and Elizabeth Jia (G '10).
Journalism Faculty, Alumni and Student Honored at 2012 Dateline Award
Alumnus Khalil Garriott (G '10) and faculty member Alisa Parenti each won a 2012 Dateline Award from the Washington, D.C., professional chapter of the Society of Professional Journalists.
The awards, which were announced at a dinner and ceremony on June 12 at the National Press Club, honor journalists in the Washington, D.C., metropolitan area for excellence in a variety of categories, including spot news, sports and business/financial reporting.
Garriott, the online editor for the NFL Players Association, won the Dateline award for excellence in local journalism for the sports website entries of the Washington reporting category for his story "'85 Bears Finally Visit The White House."
The judges wrote this about Garriott's piece, which told the story of how the 1985 Chicago Bears, the winners of Super Bowl XX, met with President Obama 25 years after their first trip to the White House was canceled because of the space shuttle Challenger disaster: "It's a good story, well told, and it was the first to be posted anywhere about this event."
Parenti won in the business category for radio entries for "Surviving Pain at the Pump," her series on rising gas prices. In the series, she gave listeners a glimpse at how gas prices affect a variety of people in the area: a mechanic, a realtor, a flower shop delivery guy and a gas station owner. The judges said the story was an example of "excellent local enterprise reporting."
"Receiving the honor was exciting, but to see several students recognized for their work was truly a thrill," Parenti said. "The MPSJ program is making its mark!"
Parenti was also a finalist for the Washington Correspondent Award. She reports for MarketWatch's Broadcast Division and is heard regularly on WTOP-Washington, D.C., 1010 WINS-New York, WBBM-Chicago and KFWB-Los Angeles.
Student Judy Kurtz (G '15) and alumna Elizabeth Jia (G '10) were also honored at the ceremony.
Kurtz, a columnist at The Hill, was a finalist in the features category for weekly newspapers for her piece "Political cartoonists rooting for Gingrich."
"I was honored to be among the SPJ Dateline Award finalists for my story on political cartoonists and how many of them were rooting for Newt Gingrich in the presidential race," Kurtz said.
"Hopefully, with this nomination, my head won't become as large as how one cartoonist described the former Republican White House hopeful's noggin in my article: 'His head is just immense. He looks like a walking Macy's float. Or the marshmallow man from 'Ghostbusters.'"
Jia was a finalist in the general news category for television for her work on "Bullying Stops Son From Going to School Says Mom." She is a multimedia journalist at WUSA 9.