Master's in Journalism Program Co-hosts Debate Panel Discussion
Master's in Journalism Program Co-hosts Debate Panel Discussion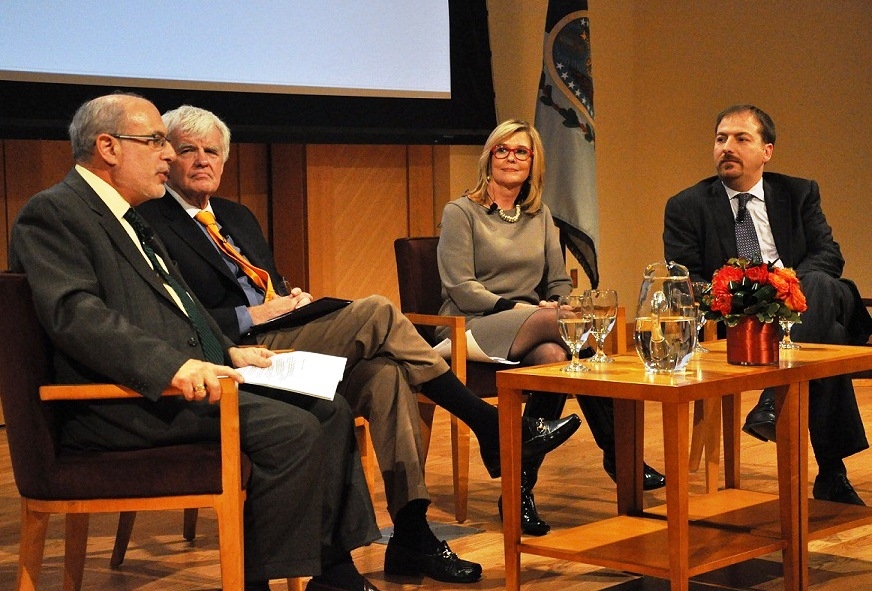 Pondering a New Format for Presidential Debates
Presidential debates should tell us something about how each candidate is going to govern, but "I don't think we achieve that very often," said Al Hunt, the Washington editor for Bloomberg news. Hunt was part of a recent panel discussion held at Georgetown University: Presidential Debates: Performance, Spin and the Press.
The format of today's presidential debates may be due for an overhaul, according to the panel of journalists, which also included columnist Kathleen Parker from The Washington Post and Chuck Todd, chief White House correspondent and political director at NBC News.
Moderated by Robert Siegel, host of NPR's All Things Considered, the panel event was held October 19 at the university's Lohrifink Auditorium. The event was presented by the News Literacy Project, a national education program that mobilizes seasoned journalists to help middle school and high school students sort fact from fiction in the digital age, and Georgetown University's Master of Professional Studies in Journalism program.
Are Presidential Debates Still Meaningful?
"Debates can be hard to read, especially with the passage of time," said Siegel, who noted that we are now 50 year into the era of modern broadcast presidential debates since the Kennedy-Nixon debate in 1960.
Debates are now won on "gotchas and style," Siegel said, noting that the first two Obama-Romney debates were reduced to sound bites about the importance of Big Bird and jokes about Romney's "binders full of women" remark. With social media, Siegel said there is now a "rush to the fun, trivial moment. The water cooler has gone national."
For a quarter of a century, the private non-profit Commission on Presidential Debates has worked with political parties and the media to establish the ground rules for each debate. But the panel suggested that it might be time to experiment with new ideas, such as:
Replacing the commission with an open competition for new debate format ideas.
Adding more debates that are spread out across more media outlets.
Reducing the involvement of the two political parties in determining the debate ground rules.
Having debates moderated by a panel of journalists versus a single media representative.
Providing instantaneous fact-checking results to viewing audiences.
Crowdsourcing debate questions from the public through social media channels.
"The irony on televised debates is that not one of them has ever been won on substance," Todd said. "That is a potential flaw in the system."
The Role of Journalists
The panel explored numerous moments from the October 16 debate, the second of three 2012 debates between President Barack Obama and Republican nominee Mitt Romney. One of the more controversial moments, according to the panelists, was CNN moderator Candy Crowley's on-air correction of Romney's statement that Obama did not immediately identify the recent Benghazi attacks as an act of terrorism versus a spontaneous demonstration.
"I think what Candy Crowley did was perfectly appropriate and I don't know what people are having such hissy fits about it," Hunt said.
"I think it was very dicey and chancy for her to do that," countered Parker, who noted that confusing messages were coming out of the White House. "It was a complicated issue to reduce to that correction on the one hand which left the impression among TV viewers that Romney was just completely wrong."
While the panel had varying opinions about how future debates could be improved, within the context of the current format there was general agreement that journalists as moderators still play an important role.
"If you want to just have 90 minutes of canned speeches, that's great," Hunt said. "I think it's not very useful. I think it's much better to have someone occasionally interrupt."
View the Webcast
Please visit the Georgetown University web site to view the webcast recording of the panel discussion, Presidential Debates: Performance, Spin and the Press.