Pulitzer Prize-Winning Journalists Discuss New Book and Share Best Practices
Pulitzer Prize-Winning Journalists Discuss New Book and Share Best Practices
By Nayana Davis, Master's in Journalism Candidate, Georgetown School of Continuing Studies
On November 11, 2013, Pulitzer Prize-winning reporters Matt Apuzzo and Adam Goldman joined the Georgetown University chapter of the Society of Professional Journalists and the Georgetown Master's in Journalism Program for a discussion of their new book, which chronicles their investigation of a spy division within the New York Police Department.
Based on their reporting for The Associated Press, "Enemies Within: Inside the NYPD's Secret Spying Unit and Bin Laden's Final Plot Against America" details how the police department used undercover officers and paid informants to infiltrate Muslim communities, including religious centers and college campuses, as a counterterrorism effort.
Apuzzo began by sharing their process for reporting the story. "You need the holy trinity of good documents, good sources and good shoe leather," said Apuzzo, who teaches Crime Reporting for the Georgetown School of Continuing Studies.
Goldman, who will soon join The Washington Post's national security team, stressed the importance of checking the veracity of documents and the reliability of sources. "Just because we get documents, doesn't mean they're real," Goldman said.
Though he and Apuzzo used anonymous sources due to the sensitive nature of their investigation, Goldman said it's best to start with the position that all comments are on the record. But he added that reporters risk losing sources when writing about controversial topics. "I knew I was going to lose sources," he said. "Sources I depend on for my daily job."
Apuzzo advised the students in attendance, particularly those interested in investigative reporting, to pay close attention to changing policies for story ideas. He argued that just because some practices are legal, such as the New York Police Department's tactics, doesn't mean questions should not be raised. "As an industry, we need to follow up on seismic movements on policies," he said.
Finally, Goldman reminded the audience that the job of a reporter is to serve the public interest. "We don't write for our sources," he said. The Pulitzer Prize committee agreed. Their AP team, including Chris Hawley and Eileen Sullivan, won the 2012 Pulitzer Prize for Investigative Reporting and sparked a debate over the proper role of domestic intelligence gathering.
Mikayla Bouchard, vice president of the Georgetown SPJ chapter and a first-semester student in the Journalism master's program, said she was inspired by the presentation. "I was very happy to have the opportunity to hear from Matt and Adam," said Bouchard, who hopes to pursue a career in national security broadcast reporting. "It's clear that they were in a difficult position, and it was interesting to see how they handled it."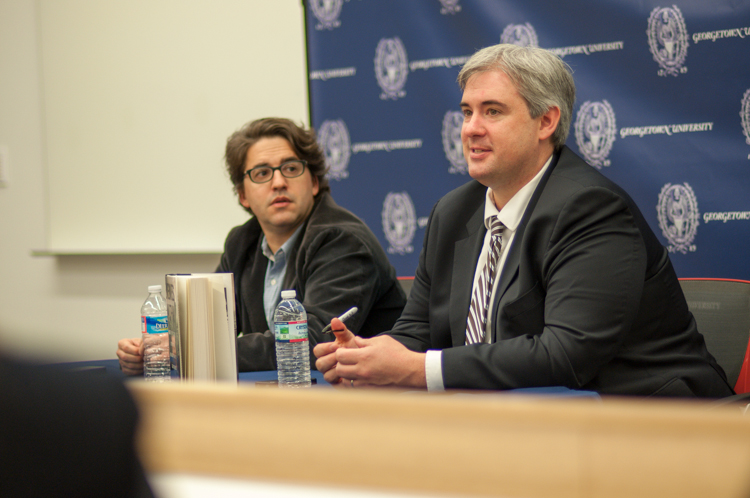 Adam Goldman (left) and Georgetown SCS faculty member Matt Apuzzo (right) talking about their investigation. Photo credit: Serena Kefayeh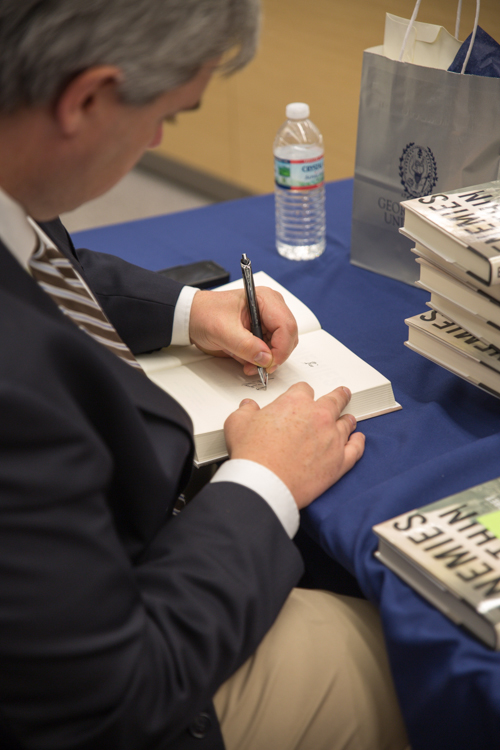 Georgetown SCS faculty member Matt Apuzzo signing copies of his new book. Photo credit: Serena Kefayeh
Adam Goldman and Matt Apuzzo with the new leaders of Georgetown's SPJ chapter (left to right: Chapter Treasurer/Secretary Nayana Davis, Chapter President Capricia Alston and Chapter Vice President Mikayla Bouchard). Photo credit: Serena Kefayeh