When the "Game" Is Almost Real: International Gaming Conference Brings Together U.S., Spain Intelligence Experts


The security nightmare du jour is open 24/7 and accessible to all. A wide variety of people enter its doors, from members of the public, to contract and part-time workers, to highly trained specialists in a multitude of fields. Though often highly siloed, it aspires, for purposes of efficiency and customer service, to a culture of sharing, which results in a number of people having access to some of the most intimate details—financial, medical, insurance-related—of a person's life.
It's your local hospital—what cybersecurity expert Jean Stanford calls "a target-rich environment."
Jean Stanford, TM Faculty
Stanford, who teaches in the Master of Professional Studies in Technology Management (TM) program at Georgetown University's School of Continuing Studies (SCS), was one of several speakers at the "International Conference on Exercises, Gaming, and Simulations for Intelligence and National Security." Held at SCS on March 24 and 25, the event was sponsored by the Georgetown Global Education Institute and the Centre for Intelligence Services and Democratic Systems at Rey Juan Carlos University in Madrid, Spain.
"Putting together such a large number of experts from many backgrounds and perspectives is one of the major accomplishments" of the conference, said Fernando Velasco, director of the university center in Madrid and a professor of moral philosophy.
In her talk, Stanford described how gangs of organized cyber criminals are harvesting healthcare data for fraud and identity theft. Some try to "monetize" the information, but most, including some Chinese hackers, "seem to be doing it to build dossiers on people." Most of the largest hospitals have a Chief Information Security Officer (CISO), she said, but many smaller ones do not. And overall, the budget for information technology is relatively small at most hospitals and the portion of those funds devoted to cybersecurity training is even smaller.
"Your presentation worries me more than any of the others," the next scheduled speaker, war-gaming expert Paul Byron Pattak, told Stanford as she gathered her materials.
That was high praise, of sorts, at a conference where presenters conjured a number of both real and imagined scenarios: from the Cuban Missile Crisis, to the political fallout from the fall of the Berlin Wall, to a simulated activity for young foreign policy professionals called "Mideast Tensions at an All-Time High."
In his talk, Pattak even reached back to ancient times and the advent of games such as Go and Chess, which are still instructive today. "The more you play, the better you get," he said. "Not just in the game, but in other areas of life."
Pattak recalled attending a conference with colleagues that included a field trip to Gettysburg and a reenactment of Pickett's Charge.
"You start thinking like the people on the battlefield." Pattak said. "Why did I take this path? Why did I make that decision?"
It's that kind of immediacy, and immersion in a situation, that games and simulations are trying to promote.
"To me, this is really the future of training intelligence analysts," said Jacqueline Barbieri, co-founder and CEO of Whitespace Solutions, LLC.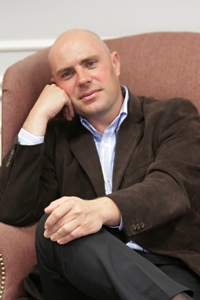 Pablo Molina, TM Faculty
In his Technology Management classes, Georgetown instructor Pablo Molina creates a scenario in which a chemistry professor at the fictitious Nitroba State University is being harassed online by a student. The students not only have to figure out who is harassing the teacher (something Molina makes difficult enough for many to get wrong), but also decide what kind of punishment, if any, is appropriate.
"Are you going to expel?" asked Molina, executive director of the International Applied Ethics and Technology Association and CIO at the Association of American Law Schools. "What about freedom of speech? It gets complicated."
"Every time I run this simulation, I get ideas I never thought of," said Molina, who added later that such technology "is making it possible to produce very sophisticated interactive simulations, and many of those are available not only to specialists, but also to the public at large."
And what is the job of intelligence analysts when technology is making it possible for many people to become amateur sleuths? That was one issue raised by Elena Sanchez Blanco, former secretary general of the Spanish Intelligence Service, in her keynote address.
"Should we innovate?" she asked. "Or go back to basics?"
The answer might sound relatively easy: One must do both. However, the implementation is more complicated. Again and again, various speakers cited the challenges and opportunities facing analysts as they navigate a world transformed by technology.
"Should we innovate?" One could hardly say "no."
At the same time, Sanchez Blanco and other speakers suggested that the "back to basics" message is also relevant, indeed critically so. When Pattak invoked the games of Go and Chess and the lessons of Gettysburg, he was doing more than paying homage to history: he was extolling the power of analysis itself.