Welcome to Georgetown!
The Summer Programs for High School Students welcome international students to join the multicultural Georgetown University community! Please read the below information for important details regarding the application and visa processes.
Application Information
If you are a student applying to take Summer College courses, and English is not the primary language of instruction at your high school, please submit TOEFL scores along with the rest of your application materials.
Visa Information
International students participating in a credit program will need to be full-time students enrolled in at least six credits in order to study at Georgetown in F-1 student status.
Students will work with the International Programs Advisor on the I-20 process.
Students should allow at least six weeks for the processing of immigration documents.
All admitted international students studying in F-1 status must attend a mandatory immigration orientation session upon arriving to Georgetown. The date and time of this session will be announced via email.
F-1 visa holders must be enrolled in at least six credits for the duration of the summer session.
Mandatory International Student Health Insurance
Georgetown University's Summer Programs for High School students requires all international students1 to carry sufficient medical insurance coverage for the duration of their program. To assist in meeting this requirement, all international students will be automatically assessed an insurance charge on their student account or student invoice and will be enrolled in a health insurance plan administered by HTH Worldwide, underwritten by BCS Insurance Company. Requests for insurance waivers will not be considered.
Insurance rates for the 2016 term have not been finalized. For your reference, insurance rates for 2015 are outlined below and are assessed according to the length of each program:
Institutes: $47.00
College Preparatory Program: $94.00
Summer College Session I: $141.00
Summer College Session II: $141.00
HTH is the insurance agency that Georgetown University selected. HTH creates customized health plans for international students. HTH is the "third party claims administrator," the company responsible for reviewing claims and all reimbursements.
1If you are not a U.S. citizen or permanent resident, then you are considered to be an "international student." If you are a U.S. citizen but live in another country, you are not an international student and will be required to show proof of health insurance.
*Insurance rates are estimated and subject to change.
Still Have Questions?
Please send an e-mail to highschool@georgetown.edu, and we will be happy to assist you.
Be A Summer HOYA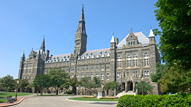 The program really confirmed my plans of becoming a health care professional. In addition, I made some great friends from across the country that I still talk to. I would recommend this program to any student contemplating a career in medicine." Celia, Hickory, NC