Registration Process for Credit Programs
Fundamentals, Summer College, and Summer Honors Intensive
Upon approval of your application, you must enroll and register for each course to ensure your spot is held.
Submit your Enrollment Response Form accessible via your official acceptance letter.
After obtaining your NetID and password (available through your online application account within 3 days of your official acceptance), please follow these steps:
Register for your preferred courses online through My Access or by clicking here https://myaccess.georgetown.edu/.
Click on "My Access."
Log in using your NetID and password. (Please Note: Your temporary password will expire in 30 days. Please change it to a permanent password as soon as possible. If you forget your NetID and password, please click for reset instructions or visit https://password.georgetown.edu/aims/ps/)
Click "Student," "Registration," and finally "Add or Drop Courses."
Select the course(s) for which you are registering.
To submit payment, log into MyAccess beginning in early April to complete the payment process. Please note that student bills will be issued by the Office of Billing and Payment Services beginning in early April.
Additional Options
Meal plan options for resident students will be listed in early spring. To sign up for a meal plan, you will purchase your summer meal plan directly from Dining at Georgetown.
Registration Process for Noncredit Programs
Institutes and The College Preparatory Program
Please note that approval of the student's application does not guarantee that the student will have a spot in the student's preferred programchoice. A student must first receive application approval from the Office of Admissions before registering. A student will only be guaranteed a spot in his/her program after the student registers and submits tuition payment, as course availability allows.

Upon approval of your application, you must register (pay in full) for each program to ensure your spot is held. Georgetown cannot guarantee or hold any student's space in any program until tuition is received.

Once you receive an e-mail from the School of Continuing Studies informing you that your application has been approved, please follow these steps:
Click on "My SCS Student Portal" and log in using your University NetID and password.
Your NetID and password were provided to you when you initiated your application. If you have forgotten your electronic credentials or need to reset your password, please click for reset instructions.
Next, locate the "Search For." section and click "Courses." The page will refresh to "Course Search."
On the "Course Search" page:
A. Use the "Course Category" drop down menu to select "High School Programs."
B. Click the "Search Now" button. You will now be presented with a list of
available programs.
Select your preferred program.
Click on "Add to Cart" next to your preferred summer program(s).
Proceed with checkout and online credit card payment.
Submit credit card payment. Please note that only electronic credit card payment is accepted.
Print your payment confirmation page and retain for your records.
Be A Summer HOYA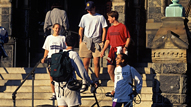 The Capstone mock-election was an integral part of my newfound political knowledge. We visited numerous places such as the Republican National Committee and the Democratic National Committee which has inspired me to go to law school." Ninio, Port Charlotte, FL