Fundamentals
The Fundamentals programs at Georgetown University offer high school students the opportunity to examine one of five subject areas while experiencing campus life in Washington, DC. Through a combination of lectures, discussions and group projects, each Fundamentals program provides students with a dynamic and enriching college learning experience.
Choose from these areas of study
Fundamentals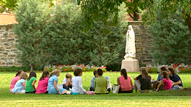 At a Glance
Session I - June 4 - July 7, 2017
Session II - July 9 - August 11, 2017
Tuition - $1,258* per credit
Pre-college fee - $598
Housing - $1,829* (per session optional)
Meals - $275* / 19 meals per week (estimated and optional)
3 college credits each
*Estimated and subject to change
Already Accepted?
See the Next Steps for registration.