Institutes & Immersion Programs
Our one-week Institutes and three-week Immersion Programs will take you on an intensive learning experience. You'll dig into a single subject through an experiential, hands-on course that integrates field trips and guest speakers with discussion sections and collaborative work. Students can expect to amass a wealth of knowledge and college experience in a short amount of time.
Choose from these areas of study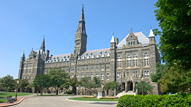 At a Glance
1-Week Institutes
June 12 - July 30, 2016
Dates vary
Tuition - $2,795*
(includes tuition, housing, and meals)
3-Week Immersion Programs
July 10 - July 30, 2016
Tuition - $5,995*
(includes tuition, housing, and meals)
*Estimated and subject to change
Ready to Apply?
Already Accepted?
Log In to enroll or
see the Next Steps for registration.
The program really confirmed my plans of becoming a health care professional. In addition, I made some great friends from across the country that I still talk to. I would recommend this program to any student contemplating a career in medicine." Celia, Hickory, NC