Georgetown and Dog Tag Inc. Help Prepare Veterans for Business Careers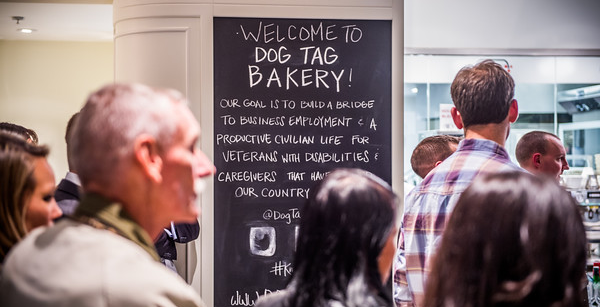 "Baking" A Difference
The Georgetown Center for Continuing & Professional Education (CCPE) in the School of Continuing Studies has partnered with Dog Tag Inc. to teach business and leadership skills to veterans and wounded warriors.
Dog Tag Inc. is a D.C-based nonprofit that offers veterans a six-month paid fellowship, which includes staffing the bakery and enrolling in CCPE's customized Certificate in Business Administration. In addition to studying business fundamentals such as marketing, accounting, and finance, Dog Tag Bakery fellows learn statistics, entrepreneurship, and effective business communication. They also meet with industry experts to gain insight into careers across a variety of professions and industries, from technology to nonprofit management to real estate. The goal is to combine the knowledge gained in class with practical real-world skills to create a powerful learning experience that enables veterans to attain their career goals.
The fifth cohort kicked off in January 2017. The Dog Tag Bakery is thinking big as it seeks to create a model that can be replicated across the country. Don't be surprised to see a Dog Tag franchise near you in the future.
Listen to NPR's story on the Dog Tag Bakery >>