Strategic Partnership
Our Strategic Partner: Stevens Institute of Technology
The Georgetown University Master of Professional Studies in Systems Engineering Management program combines the strengths of two powerful partner educational institutions, the Georgetown University School of Continuing Studies, a world leader in providing applied management and leadership for professionals, and Stevens Institute of Technology, a leader in the increasingly complex and challenging systems engineering field.
With Georgetown and Stevens as partners, our systems engineering students will benefit from a rigorous and well-rounded curriculum that combines Georgetown's excellence in innovation, management and strategy development with Stevens' leadership in engineering theories and practices.
Stevens Institute of Technology strengthens the curriculum with the following:
Provides recommendations for curriculum, course content and faculty.
Makes available its systems engineering faculty to Georgetown students as instructors and advisors.
Assists Georgetown in building deeper relationships in the systems engineering industry.
Creates a nation-leading research and development arm to benefit the program, faculty, students, and alumni.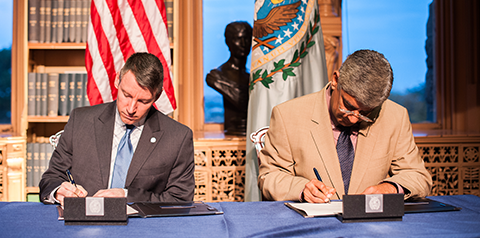 Walter Rankin, Ph.D., Interim Dean of Georgetown University School of Continuing Studies, and Dinesh Verma, Ph.D., Dean of Stevens Institute of Technology School of Systems and Enterprises, sign documents signifying the Georgetown-Stevens partnership and launch of the Master's in Systems Engineering Management program.
Expertise in Engineering
Stevens Institute of Technology has been repeatedly recognized as a leader in engineering education. The following are some highlights of accomplishments, awards and rankings the school and its students have received:
Awarded honorable mention in Wall Street & Technology's 2012 list of the 11 schools that capital market executives list as their favorite in hiring computer programming and engineering graduates.
Ranked 12th in the nation for alumni with the highest mid-career salaries by CNNMoney.com.
Ranked on U.S. News & World Report's 2012 "Short List" of 10 national universities that produce the most interns.
Ranked 75th in the category of Best National Universities in the 2013 edition of "Best Colleges" by U.S. News & World Report.
Ranked 23rd in the nation for Return on Investment for students in a 2012 Bloomberg Businessweek study.
Ranked 13th in the nation for Career Services by The Princeton Review's 2013 edition of "The Best 377 Colleges".
Listed among the top 11 schools for insurance and technology talent in Insurance & Technology in 2012.
Ranked eighth in the nation for the number of engineering master's degrees awarded in 2011 by the American Society for Engineering Education (ASEE).
Awarded the International Distance Learning Award from the United States Distance Learning Association (USDLA) in 2010 and 2011.
Awarded two first-place prizes in the 2011 U.S. Department of Energy (DOE) Solar Decathlon and selected to compete in 2013 Solar Decathlon.
More About Stevens Institute of Technology
Stevens Institute of Technology works together with Georgetown University to ensure that the program maintains deep integration with the systems industry. Stevens was founded in 1870 and is one of the top 10 largest graduate engineering schools in the United States. It is home to one of the largest systems engineering graduate programs in the nation and hosts the largest research center focused on systems engineering research – Systems Engineering Research Center (SERC), with 23 participating universities. Georgetown University is one of the collaborator universities within the SERC.