Systems Engineering Panelists Offer Career Advice, Industry Insights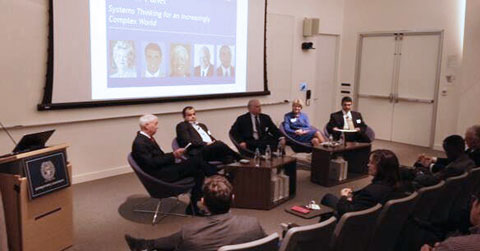 On May 1, 2014, the Georgetown University Master's in Systems Engineering Management program invited current students, prospective students and the general public to hear industry experts discuss "Systems Thinking for an Increasingly Complex World." The program opened with Wilson N. Felder, Ph.D., the moderator for the event, explaining that "systems thinkers think about the whole and not just the parts."
The expert panel featured:
Each of the experts weighed in on the importance of the systems engineering manager to successful project implementation. Dr. Guirguis spoke of using a holistic approach and Adam Firestone elaborated on the dangers of silos, calling the systems engineering manager "a bridge." All panelists were excited about the interdisciplinary approach now offered by Georgetown and Stevens. "This is a match made in heaven," said Dr. Pitsko – and Alice Quinn concurred, calling the program "excellent."
"The panelists explained that systems engineers need to have more than technical knowledge. They also need skills like leadership and communication to be truly effective," says Executive Director Beverly Magda, Ph.D., who opened the event with an overview of the master's degree curriculum. "Our program's innovative partnership with Stevens Institute of Technology ensures that each Georgetown student graduates with both technical proficiency and management expertise."
"Tonight's event illuminated systematic problems in complex systems integration and the need for the kind of interdisciplinary focus that the Georgetown-Stevens collaboration can bring," added Dr. Felder, a Distinguished Service Professor at the Stevens Institute of Technology's School of Systems and Enterprises, who also serves as an instructor for Georgetown's Master's in Systems Engineering Management program.
The panel on "Systems Thinking for an Increasingly Complex World" can be viewed in its entirety below.
Robert Pisko of @MITREcorp: We need people who are just not technical, we need people with liberal arts and management backgrounds #SEM

— GeorgetownSEM (@GeorgetownSEM) May 2, 2014
Alice Quinn & Adam Firestone: we're looking to hire #systemsengineers because they have the skills needed to make our companies successful

— GeorgetownSEM (@GeorgetownSEM) May 2, 2014
More Information:
Systems Engineering Management
YouTube of event