Curriculum Overview
Core Courses (6 credits)
There are two core courses, Ethics and Capstone, which students must take in order to be eligible for the MPS degree. The first core course, Ethics, is taken during the student's first semester and the second, Capstone, is taken during the student's last semester.
MPHM 500: Ethics and Leadership in Hospitality
MPHM 900: Capstone
Full course descriptions
Foundation Courses (15 credits)
There are five foundation courses that students must complete in order to be eligible for the MPS degree. Together, they introduce students to major concepts within the hospitality industry and prepare them to become effective hospitality managers.
MPHM 550: Foundations of the Hospitality Business
MPHM 520: Managerial Accounting and Finance: Analysis and Decision-Making for Hospitality Operations
MPHM 530: Sales & Marketing and Communications
MPHM 560: Strategy and Design Thinking in the Hospitality Context
MPHM 570: Global Studies in Hospitality: Intensive Learning Experience
Elective Courses (12 credits)
All students are required to complete four elective courses.
Focus Areas
Strategic Brand and Experience
Strategic Planning and Development
Full course list for focus areas
The following chart illustrates the program's overall course requirements and flow: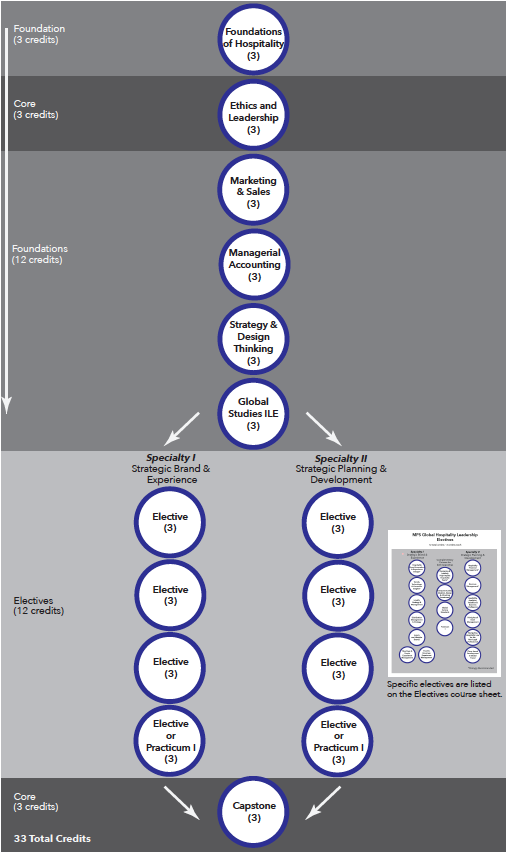 Note: This page details the degree requirements for students matriculating in the MPS in Global Hospitality Leadership program during or after the Fall 2017 semester. If you are matriculating prior to Fall 2017 visit Curriculum Overview—Prior to Fall 2017. Matriculation is defined as the first semester in which a new student enrolls in Hospitality courses.