Events
Collaborative Hub for Hospitality
An event series hosted by the master's in Global Hospitality Leadership Program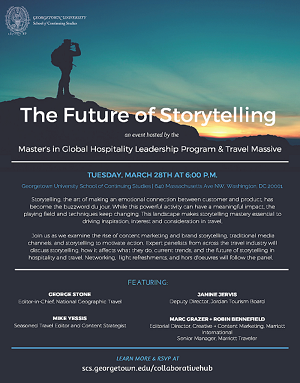 Click image to view poster.
Washington, D.C., is home to the world's largest hotel management and development headquarters, travel and transportation groups, associations, and properties. Located at the center of all of these, Georgetown University's downtown campus operates as a gathering place for the diverse players of hospitality to network, collaborate, and facilitate the dialogue of innovation that will move the industry forward.
Whether you are a current student, prospective student, or industry professional, we invite you to join us for these exciting events.
---
Spring 2017
The Future of Travel Storytelling
Event Details:
Tuesday, March 28, 2017
6:00 p.m.
Georgetown University SCS
640 Massachusetts Ave NW

Storytelling, the art of making an emotional connection between customer and product, has become the buzzword du jour. While this powerful activity can have a meaningful impact, the playing field and techniques keep changing. This landscape makes storytelling mastery essential to driving inspiration, interest and consideration in travel.
Join us as we examine the rise of content marketing and brand storytelling, traditional media channels, and storytelling to motivate action. Expert panelists from across the travel industry will discuss storytelling, how it affects what they do, current trends, and the future of storytelling in hospitality and travel.
Featuring:
George Stone, Editor-in- Chief, National Geographic Travel
Mike Yessis, Seasoned Travel Editor and Content Strategist
Janine Jervis, Deputy Director, Jordan Tourism Board
Marc Grazer, Editorial Director, Creative + Content Marketing at Marriott International
Robin Bennefield, Senior Manager, Marriott Traveler
Networking, light refreshments, and hors d'oeuvres will follow the panel.
Co-hosted by the master's in Global Hospitality Leadership and Travel Massive
---