Collaborative Hub for Hospitality: Fall 2015 Event Series
An event series hosted by the Master's in Hospitality Management Program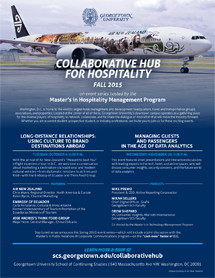 Washington, D.C., is home to the world's largest hotel management and development headquarters, travel and transportation groups, associations, and properties. Located at the center of all of these, Georgetown University's downtown campus operates as a gathering place for the diverse players of hospitality to network, collaborate, and facilitate the dialogue of innovation that will move the industry forward. Whether you are a current student, prospective student, or industry professional, we invite you to join us for these exciting events.
---
Long-Distance Relationships: Using Culture to Brand Destinations Abroad
Event Details:
Tuesday, October 6
6:00 p.m.
Georgetown University SCS
640 Massachusetts Ave, NW
Washington, DC 20001

RSVP:



With the arrival of Air New Zealand's "Pleased to Seat You" inflight experience tour in D.C., we welcome a conversation about marketing a destination via traditional and modern cultural vehicles—from diplomatic missions to airlines and food—with the Embassy of Ecuador and Think Food Group. The Embassy of Ecuador will reveal its new branding campaign with indigenous roots, and Think Food Group will discuss its use of cuisine as a tool to introduce new destinations to Americans coast to coast. Air New Zealand will highlight its unexpectedly viral safety videos and innovative cabin designs, as well as offer a chance to win tickets to New Zealand.
Featuring:
AIR NEW ZEALAND
Robin Byrne, Channel Marketing
Chris Myers, Regional Director, North America & Europe
EMBASSY OF ECUADOR
Carla Portalanza, Cultural & Press Attaché
Former Undersecretary of Tourism Promotion at the Ecuadorian Ministry of Tourism
JOSE ANDRES'S THINK FOOD GROUP
Mayu Horie, General Manager, China Chilcano
---
Managing Guests and Passengers in the Age of Data Analytics
Event Details:
Wednesday, November 18
6:00 p.m.
Georgetown University SCS
640 Massachusetts Ave, NW
Washington, DC 20001

RSVP:



Big data is at the heart of today's hospitality industry, serving as the cornerstone of customer relationship and experience management. This event features short presentations and interactive discussions with leading experts in the tech, hotel, and airline spaces, who will discuss consumer insights, security concerns, and the future world of data analytics.
Panelists:
MIKE PREMO
President & CEO, Airline Reporting Corporation
MIKAH SELLERS
Chief Digital Officer, Grafik
Georgetown SCS Faculty
DREW SHEPARD
VP, Consumer Insights, Marriott International
Georgetown SCS Faculty
Co-Hosted by the Master's in Technology Management Program
---
Stay tuned as we announce the Spring 2016 event series—which will include a joint discussion with the Master's in Public Relations & Corporate Communications program—on the "cool-ness" factor of D.C.
Video Highlight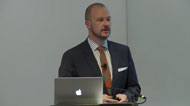 Fostering the Global Hosts of Tomorrow: Introducing the Master's in Hospitality Management Program
Watch Now