Hospitality Students Get a Taste of Spain…and Ecuador, and New Zealand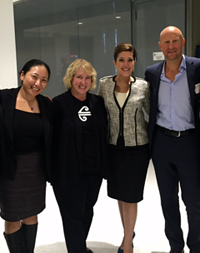 From left: Mayu Horie, Robin Byrne, Carla Portalanza, and Chris Myers
Can you market an entire country through a single bite of its food?
Mayu Horie thinks you can, and she proved it during a forum sponsored by the Georgetown University master's in Hospitality Management (HM) program. "Long-Distance Relationships: Using Culture to Brand Destinations Abroad"—held at the School of Continuing Studies (SCS) downtown D.C. campus on October 6—focused on marketing countries through their unique cultural attributes.
Horie is General Manager of China Chilcano, the celebrated Peruvian-Chinese-Japanese fusion restaurant from world famous chef José Andrés. She said there is a story behind each of Andrés' creations.
Sold on Spain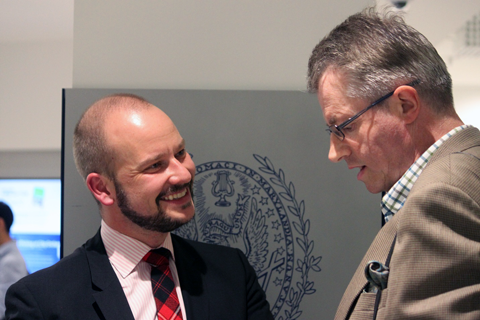 Gray Shealy, left, says countries can offer a unique experience to travelers and engage them in authentic ways.
To illustrate, she offered one lucky volunteer a taste of one of Spain's most intriguing dishes, Jamon Iberico de Bellota, a cured ham from the black-footed Iberico pigs that roam the Spanish-Portuguese border and exist largely on a diet of acorns.
"It's not the big pieces. It's about the little pieces," Horie told the audience during the event. "One little bite of food will open up a new world."
Then, as if on cue, the taste-tester blurted out: "I want to go, like, now!"
As the audience burst into laughter, Horie concluded: "Spain. Done! Sold!"
What was going on here? Gray Shealy, HM's executive director, explained that in today's booming yet highly competitive hospitality industry, marketers can't just sell a product, service, or transaction—they must offer an experience and engage customers in a unique and authentic way.
Leading the Way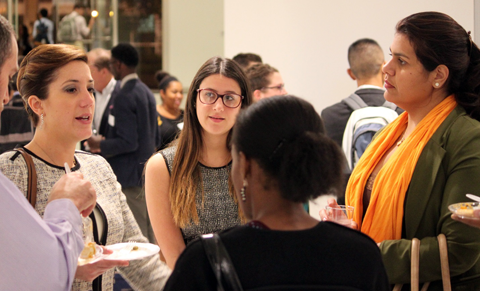 Carla Portalanza, left, speaks with guests at a reception following the event.
Joining Horie onstage were Carla Portalanza, Cultural and Press Attaché for the Embassy of Ecuador, and Chris Myers, Regional Director, North America and Europe, for Air New Zealand. All three, Shealy said, "are leading the way for the entire industry, but they are doing it as boutique innovators whose messages are echoing far more loudly than their own size."
Just where, exactly, is Ecuador? That's the first hurdle.
"How do you market a country when no one knows where it is?" Portalanza asked, rhetorically. "You have to taste a little bit. You have to feel a little bit."
Like a growing number of nations, Ecuador is enlisting its embassy in its marketing effort. The campaign emphasizes Ecuador's spectacular beauty, which is found in four distinct regions—"four worlds in one little country," Portalanza called them—the Amazon basin, Galapagos Islands, Pacific Coast, and Andes Mountains.
The nation's logo is "Ecuador: Love Life," a theme that extends to commercials that reference a famous Beatles song: "Like nowhere else, all in one place. So close. All you need is Ecuador. Ecuador is all you need."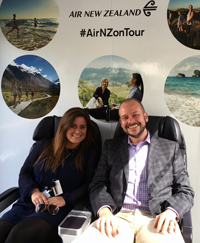 Erin Engel and Gray Shealy try out the seats in the Air New Zealand bus.

And maybe New Zealand, which, like Ecuador, seems remote for North Americans, yet is astonishingly beautiful. To stand out, the airline has to be different, Myers said, whether through its unique airplane interiors or its wildly popular safety videos (which make hilarious use of the movie The Hobbit, which was filmed there). For the Georgetown event, the airline brought along a custom-made touring bus featuring four of its innovative (and very comfortable) airplane seats. It was one of several stops on its "Pleased to Seat You" tour of the United States and Canada.

"If you're small, be different, be innovative," Myers said. "And if you're innovative, be committed. And don't be afraid to share it."
Video Highlight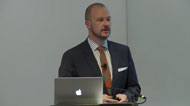 Fostering the Global Hosts of Tomorrow: Introducing the Master's in Hospitality Management Program
Watch Now