Georgetown CCPE Faculty Publishes Book on Statistics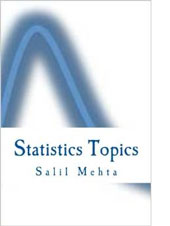 Professor Salil Mehta, adjunct faculty at the Georgetown University Center for Continuing and Professional Education, recently published his book Statistics Topics (2014). Professor Mehta's motivation to publish the book is to educate managers in statistics in a way that allows them to take advantage of big data and the information revolution. "Seek out a statistics curriculum and continue to practice it as you develop in your career. You'll find it quite enjoyable and be able to share your insights with the world," Mehta believes. "The new industrial revolution we are in may seem muted, but it offers the best growth opportunities for those desiring to process data and make smart decisions for their societies. Statistics will also help you manage risks in your own personal life, allowing one to think about limited sample sizes and inherently uncertain outcomes that probability models can help quantify," said Mehta in a recent article with the prestigious Royal Statistical Society.
The book colorfully weaves statistical concepts into stories concerning everyday life. Stories cover the nascent development of the field going back hundreds of years from Asia to the Middle East to Europe and continue all the way to current topics such as the fickleness of modern U.S. elections, hot-hand streaks in the market, and Flight MH370's disappearance. Professor Mehta offers tools to think about diverse topics such as civil unrest in emerging countries and Federal Reserve Chair Janet Yellen's current interest rate strategy. The book covers intermediate statistical concepts such as probability theory, parameters, moments and correlations, stochastics, samples and errors, advanced confidence intervals, visual solutions, regression, distribution fits, and other topics.
The book is available for purchase on Amazon.com and half the proceeds generated from book sales will be donated to charity.
About the Author
Professor Salil Mehta teaches statistics for the Business Administration certificate program and Data Analytics certificate program at Georgetown. He is a statistician with more than 17 years of experience, of which a dozen years were on Wall Street, performing proprietary trading and economic research for firms such as Salomon/Citigroup, and Morgan Stanley. He also served for two years in a leadership role, as the Director of Analytics, in the U.S. Department of the Treasury for the Administration's $700 billion TARP program. Salil is also the former Director of the Policy, Research, and Analysis Department in the Pension Benefit Guaranty Corporation.
In addition to having lectured on probability and economics at a number of leading universities, Salil has authored academic articles. He currently provides advisory to the heads of several organizations, and he is concurrently a Rutgers graduate statistics adjunct faculty member.
Salil has also been acknowledged by a number of leading publications, such as the National Bureau of Economic Research, American Statistical Association, and The New York Times. His blog on statistics research, Statistical Ideas, is being followed by more than one central bank and is syllabus reading at a few leading universities. He completed a graduate degree in mathematical statistics from Harvard University.