Summer College Courses
These challenging five-week courses are designed for students who want to experience university-level academics while building up their resume for college applications. Summer College students may take one 3-credit undergraduate class per session, earning up to 6 college credits over the course of the summer. See below for a full list of course offerings for Summer 2017.
View Courses
Displaying 92 courses
Summer College Course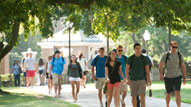 At a Glance
Session I - June 4 - July 7, 2017
Session II - July 9 - August 11, 2017
Tuition - $1,302* per credit
Pre-college fee - $598
Housing - $1,200* (per session optional)
Meals - $280* / 19 meals per week (estimated and optional)
3 college credits each
*Estimated and subject to change
Already Accepted?
See the Next Steps for registration.