Summer Honors Intensive
Highly motivated high school students who are seeking a rigorous academic experience are encouraged to take two courses per session. Over the course of the 10-week summer, you will have the opportunity to enroll in up to four college courses, earning up to 12 college credits (a full semester at most universities). Those who complete two courses in a session will receive a Summer Honors Intensive Certificate upon completing their studies. See below for the Summer Honors Intensive courses that will be offered in 2016.
View Courses
Displaying 26 courses
Summer Honors Intensive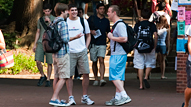 At a Glance
Session I - June 4 - July 7, 2017
Session II - July 9 - August 11, 2017
Tuition - $1,258* per credit
Pre-college fee - $598
Housing - $1,829* (per session optional)
Meals - $275* / 19 meals per week (estimated and optional)
3 college credits each
*Estimated and subject to change
Already Accepted?
See the Next Steps for registration.