Business Administration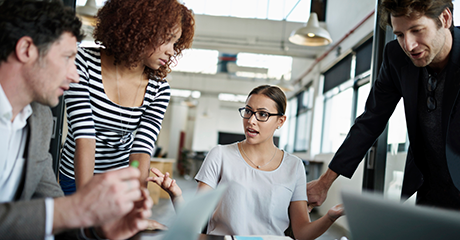 ---
Ideal for
Individuals looking to develop a strong understanding of core business management principles.
Program Format
Courses typically meet on Friday evenings and Saturdays at our downtown Washington, D.C. campus. Occasionally, courses may meet on weekdays during the day or evening.
Program Length
Six courses over one semester. Students are not required to enroll continuously and have up to two years to complete the program.
Program Cost
Tuition is $895.00 per course. Total program tuition for all six courses is $5,370.00. Most course materials are included.

Learn more about funding or financing your certificate >>
Start Date
Business Administration courses are open enrollment and offered throughout the year. Students are encouraged to complete the courses in sequence. Please see course schedule below for the next start date.
Program Overview
The Certificate in Business Administration is designed to help professionals develop expertise and competency in the critical functions that are necessary for professional success in business. The program develops foundational skills in management, marketing, communications, accounting, finance, and strategy. Through the use of case studies, exercises, and projects, the program emphasizes professional development and skill building in planning, forecasting, decision-making, and implementation.
The faculty who teach in the Certificate in Business Administration program consist of faculty at the Georgetown University McDonough School of Business and practitioners with extensive industry experience from Fortune 100 companies such as Fedex and Deutsche Bank. As a result, students gain a variety of perspectives on contemporary management theory and practice as well as exposure to real-world applications.
Program Objectives
Upon successful completion of the program, participants will be able to:
Analyze the management process, with particular attention to getting work done through people in organizations
Identify and learn how to make major marketing decisions to satisfy target customer needs and achieve organizational goals and objectives
Effectively communicate in organizations, including written and oral presentation skills
Interpret financial statements and compute key financial ratios from data in balance sheets, income statements, cash flow, and other statements that measure activity
Make decisions based on the time value of money, investment options, and capitalization
Analyze business problems to better formulate strategy, tactics, plans, and policies
Certificate Requirements
To receive the Certificate in Business Administration from Georgetown University, students must successfully complete five (5) required courses and one (1) elective course for a total of 10.80 Continuing Education Units (CEUs), which is equivalent to 108.0 contact hours. All six courses must be completed within a two-year period.
| | Course Name | Course Type | CEUs |
| --- | --- | --- | --- |
| 1 | Business Accounting | Required | 1.80 |
| 2 | Principles of Management | Required | 1.80 |
| 3 | Principles of Marketing | Required | 1.80 |
| 4 | Principles of Finance | Required | 1.80 |
| 5 | Business Policy & Strategy | Required | 1.80 |
| 6 | Elective 1 | Elective | 1.80 |
| Total | 5 Required Courses + 1 Elective Course | | 10.80 |
See below for course schedules and registration information.
Program Prerequisites
Program participants must have a bachelor's degree or the equivalent.
International Students
Georgetown University cannot sponsor student visas for non-credit professional certificate programs, however, international students who enter the U.S. on a valid visa are eligible to enroll in courses. For more information, please see our Frequently Asked Questions. A TOEFL examination for non-native speakers of English is not required but students are expected to read, write and comprehend English at the graduate level to fully participate in and gain from the program.
How to Enroll
This certificate is an open enrollment program. No application is required and registration is available by clicking the course links below. Course registration is complete when payment is processed and you receive a confirmation email.
Required:
Business Accounting
Business Policy
Principles of Finance
Principles of Management
Principles of Marketing
Elective:
Business Statistics
Communication in Organizations
---
Course Schedule
Course Name
Semester and Section
Required
Fall 2017
Business Accounting

Not currently scheduled

Section 01

Wed, 6:30 PM - 9:30 PM
Aug 16, 2017 to Aug 23, 2017
640 Mass Ave.

Sat, 9:00 AM - 4:00 PM
Aug 19, 2017 to Aug 26, 2017
640 Mass Ave.

Status:

Open

Required
Fall 2017
Principles of Finance

Not currently scheduled

Section 01

Fri, 6:30 PM - 9:30 PM
Sep 08, 2017 to Sep 15, 2017
640 Mass Ave.

Sat, 9:00 AM - 4:00 PM
Sep 09, 2017 to Sep 16, 2017
640 Mass Ave.

Status:

Open

Section 101

Online

Nov 06, 2017 to Nov 20, 2017

Status:

Open

Required
Fall 2017
Principles of Management

Not currently scheduled

Section 01

Fri, 6:30 PM - 9:30 PM
Oct 27, 2017 to Nov 03, 2017
640 Mass Ave.

Sat, 9:00 AM - 4:00 PM
Oct 28, 2017 to Nov 04, 2017
640 Mass Ave.

Status:

Open

Required
Fall 2017
Principles of Marketing

Not currently scheduled

Section 01

Fri, 6:30 PM - 9:30 PM
Nov 10, 2017 to Nov 17, 2017
640 Mass Ave.

Sat, 9:00 AM - 4:00 PM
Nov 11, 2017 to Nov 18, 2017
640 Mass Ave.

Status:

Open

Required
Fall 2017
Business Policy

Not currently scheduled

Section 01

Fri, 6:30 PM - 9:30 PM
Dec 01, 2017 to Dec 08, 2017
640 Mass Ave.

Sat, 9:00 AM - 4:00 PM
Dec 02, 2017 to Dec 09, 2017
640 Mass Ave.

Status:

Open

Elective
Fall 2017
Communication in Organizations

Not currently scheduled

Section 01

Fri, 6:30 PM - 9:30 PM
Sep 29, 2017 to Oct 06, 2017
640 Mass Ave.

Sat, 9:00 AM - 4:00 PM
Sep 30, 2017 to Oct 07, 2017
640 Mass Ave.

Status:

Open

Elective
Fall 2017
Business Statistics

Not currently scheduled

Section 01

Fri, 6:30 PM - 9:30 PM
Oct 13, 2017 to Oct 20, 2017
640 Mass Ave.

Sat, 9:00 AM - 4:00 PM
Oct 14, 2017 to Oct 21, 2017
640 Mass Ave.

Status:

Open

Section 02

Fri, 6:30 PM - 9:30 PM
Nov 10, 2017 to Nov 17, 2017
640 Mass Ave.

Sat, 9:00 AM - 4:00 PM
Nov 11, 2017 to Nov 18, 2017
640 Mass Ave.

Status:

Canceled