Cybersecurity Strategy: On Campus & Online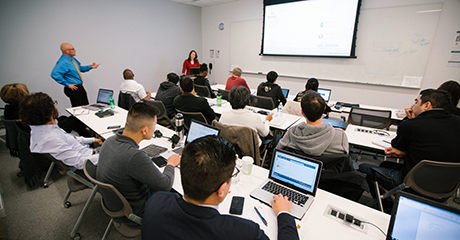 ---
Ideal for
Professionals with experience in the information technology industry who are seeking strategy and leadership skills in cybersecurity management or are currently responsible for business continuity, risk management, or data infrastructure.
Program Format
On-Campus: Courses typically meet on Friday evenings and Saturdays at our downtown Washington, D.C. campus. Occasionally, courses may meet on weekdays during the day or evening.

Online: Online courses will be offered beginning in Fall 2017. All online courses are asynchronous so that students do not need to meet online at a specific time each week.
Program Length
Six courses over one semester. Students are not required to enroll continuously and have up to two years to complete the program.
Program Cost
Tuition is $895.00 per course. Total program tuition including all six courses is $5,370.00. Most course materials are included.

Learn more about funding or financing your certificate >>
Start Date
Cybersecurity Strategy courses are open enrollment and offered throughout the year, though some courses may be available in the spring or fall semester only. Students are encouraged to complete the courses in sequence. Please see course schedule below for the next start date.
Program Overview
Taught by experienced practitioners and academics, the Certificate in Cybersecurity Strategy places participants in the role of the Chief Information Security Officer (CISO) and adopts a managerial perspective – in contrast to a technical approach - on the practice of cybersecurity. The program cultivates the skills needed to design and implement a comprehensive information security strategy, from prevention to crisis management. At the strategic level, the program provides foundational knowledge in security models, risk assessment, secure systems development, crisis management, and legal, regulatory, and compliance issues. At the tactical level, the program examines issues of access control, encryption, network security, and social engineering.
Students who complete the program may wish to pursue the Certified Information Systems Security Professional (CISSP®) credential awarded by the International Information Systems Security Certification Consortium or the Certified Information Security Manager (CISM®) designation awarded by the Information Systems Audit and Control Association. Students should research each designation to become familiar with the certification requirements and process.
Program Objectives
Upon successful completion of the program, participants will be able to:
Build the business case for a cybersecurity strategy
Explain the state of cybersecurity nationally and globally
Develop a cybersecurity strategy in a complex organization
Recommend information security process and procedures to make informed cybersecurity risk decisions
Discover the fundamental technical and non-technical aspects of cybersecurity
Discuss major legal, regulatory, and compliance cybersecurity frameworks
Devise a crisis management plan
Certificate Requirements
To receive the Certificate in Cybersecurity Strategy from Georgetown University, students must successfully complete six (6) required courses for a total of 10.80 Continuing Education Units (CEUs), which is equivalent to 108.0 contact hours. All six courses must be completed within a two-year period.
| | Course Name | Course Type | CEUs |
| --- | --- | --- | --- |
| 1 | Making the Business Case for Cybersecurity | Required | 1.80 |
| 2 | Threats, Vulnerabilities and Social Engineering | Required | 1.80 |
| 3 | Technical Countermeasure and Risk Assessment | Required | 1.80 |
| 4 | Managing Security | Required | 1.80 |
| 5 | Leadership and Strategy in Cybersecurity | Required | 1.80 |
| 6 | Applied Cybersecurity & Crisis Management | Required | 1.80 |
| Total | 6 Required Courses | | 10.80 |
See below for course schedules and registration information.
Program Prerequisites
A bachelor's degree or equivalent
3-5 years of professional experience in the information technology industry
Working knowledge of current cybersecurity issues
International Students
Georgetown University cannot sponsor student visas for non-credit professional certificate programs, however, international students who enter the U.S. on a valid visa are eligible to enroll in courses. For more information, please see our Frequently Asked Questions. A TOEFL examination for non-native speakers of English is not required but students are expected to read, write and comprehend English at the graduate level to fully participate in and gain from the program.
How to Enroll
This certificate is an open enrollment program. No application is required and registration is available by clicking the course links below. Course registration is complete when payment is processed and you receive a confirmation email.
Required:
Applied Cybersecurity & Crisis Management
Leadership and Strategy in Cybersecurity
Making the Business Case for Cybersecurity
Managing Security
Technical Countermeasures and Risk Assessment
Threats, Vulnerabilities and Social Engineering in Cybersecurity
---
Course Schedule
Course Name
Semester and Section
Required
Fall 2017
Making the Business Case for Cybersecurity

Not currently scheduled

Section 01

Fri, 6:30 PM - 9:30 PM
Sep 08, 2017 to Sep 15, 2017
640 Mass Ave.

Sat, 9:00 AM - 4:00 PM
Sep 09, 2017 to Sep 16, 2017
640 Mass Ave.

Status:

Open

Section 101

Online

Oct 02, 2017 to Oct 16, 2017

Status:

Open

Required
Fall 2017
Threats, Vulnerabilities and Social Engineering in Cybersecurity

Not currently scheduled

Section 01

Fri, 6:30 PM - 9:30 PM
Sep 22, 2017 to Sep 29, 2017
640 Mass Ave.

Sat, 9:00 AM - 4:00 PM
Sep 23, 2017 to Sep 30, 2017
640 Mass Ave.

Status:

Open

Section 101

Online

Oct 16, 2017 to Oct 30, 2017

Status:

Open

Required
Fall 2017
Technical Countermeasures and Risk Assessment

Not currently scheduled

Section 01

Fri, 6:30 PM - 9:30 PM
Oct 13, 2017 to Oct 20, 2017
640 Mass Ave.

Sat, 9:00 AM - 4:00 PM
Oct 14, 2017 to Oct 21, 2017
640 Mass Ave.

Status:

Open

Section 101

Online

Oct 30, 2017 to Nov 13, 2017

Status:

Open

Required
Fall 2017
Managing Security

Not currently scheduled

Section 01

Fri, 6:30 PM - 9:30 PM
Oct 27, 2017 to Nov 03, 2017
640 Mass Ave.

Sat, 9:00 AM - 4:00 PM
Oct 28, 2017 to Nov 04, 2017
640 Mass Ave.

Status:

Open

Section 101

Online

Nov 27, 2017 to Dec 11, 2017

Status:

Open

Required
Fall 2017
Leadership and Strategy in Cybersecurity

Not currently scheduled

Section 01

Fri, 6:30 PM - 9:30 PM
Nov 10, 2017 to Nov 17, 2017
640 Mass Ave.

Sat, 9:00 AM - 4:00 PM
Nov 11, 2017 to Nov 18, 2017
640 Mass Ave.

Status:

Open

Section 101

Online

Jan 08, 2018 to Jan 22, 2018

Status:

Open

Required
Fall 2017
Applied Cybersecurity & Crisis Management

Not currently scheduled

Section 01

Fri, 6:30 PM - 9:30 PM
Dec 01, 2017 to Dec 08, 2017
640 Mass Ave.

Sat, 9:00 AM - 4:00 PM
Dec 02, 2017 to Dec 09, 2017
640 Mass Ave.

Status:

Open

Section 101

Online

Jan 22, 2018 to Feb 05, 2018

Status:

Open