Data Science
Certificate in Data Science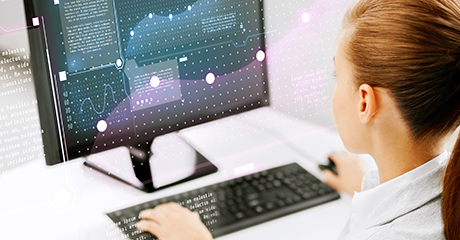 ---
Ideal for
Professionals with a strong interest in data science seeking to make a career transition and professionals who currently work with large data sets, data management and design, and/or data structures seeking more formalized training in data science.
Program Format
This cohort program meets on Friday evenings and Saturdays at our downtown Washington, D.C. campus. In addition to classroom work, students also work in teams to complete a real-world data science project.
Program Length
Eight courses completed in sequence over five months.
Program Cost
Total program tuition including all eight courses is $6,760.00. Most course materials are included.

Learn more about funding or financing your certificate >>
Start Date

This cohort program admints new students during the Spring, Summer, and Fall semesters.
Certificate Requirements:
To receive the Certificate in Data Science, students must successfully complete the eight (8) required courses for a total of 10.80 Continuing Education Units (CEUs), which is equivalent to 108 contact hours.
Required:
Applied Data Science
Data Analysis I: Statistics
Data Analysis II: Machine Learning
Data Ingestion and Wrangling
Data Sources and Storage
Foundations of Data Analytics and Data Science
Software Engineering for Data
Visual Analytics
---
Course Schedule
Course Name
Semester and Section
Required
Fall 2017
Foundations of Data Analytics and Data Science

Not currently scheduled

Section 01

Sat, 9:00 AM - 4:00 PM
Aug 12, 2017 to Aug 19, 2017
640 Mass Ave.

Status:

Open

Required
Fall 2017
Software Engineering for Data

Not currently scheduled

Section 01

Fri, 6:30 PM - 9:30 PM
Aug 25, 2017 to Sep 08, 2017
640 Mass Ave.

Sat, 9:00 AM - 4:00 PM
Aug 26, 2017 to Sep 09, 2017
640 Mass Ave.

Status:

Open

Required
Fall 2017
Data Sources and Storage

Not currently scheduled

Section 01

Sat, 9:00 AM - 4:00 PM
Sep 16, 2017 to Sep 23, 2017
640 Mass Ave.

Status:

Open

Required
Fall 2017
Data Ingestion and Wrangling

Not currently scheduled

Section 01

Sat, 9:00 AM - 4:00 PM
Sep 30, 2017 to Oct 07, 2017
640 Mass Ave.

Status:

Open

Required
Fall 2017
Data Analysis I: Statistics

Not currently scheduled

Section 01

Sat, 9:00 AM - 4:00 PM
Oct 14, 2017 to Oct 21, 2017
640 Mass Ave.

Status:

Open

Required
Fall 2017
Data Analysis II: Machine Learning

Not currently scheduled

Section 01

Fri, 6:30 PM - 9:30 PM
Oct 27, 2017 to Nov 03, 2017
640 Mass Ave.

Sat, 9:00 AM - 4:00 PM
Oct 28, 2017 to Nov 04, 2017
640 Mass Ave.

Status:

Open

Required
Fall 2017
Visual Analytics

Not currently scheduled

Section 01

Sat, 9:00 AM - 4:00 PM
Nov 18, 2017 to Dec 02, 2017
640 Mass Ave.

Status:

Open

Required
Fall 2017
Applied Data Science

Not currently scheduled

Section 01

Sat, 9:00 AM - 4:00 PM
Dec 09, 2017 to Dec 16, 2017
640 Mass Ave.

Status:

Open