International Business Management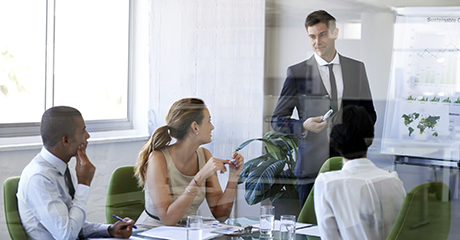 ---
Ideal for
Professionals, executives, government employees, and entrepreneurs who would like to develop or expand their international business knowledge.
Program Format
Courses typically meet on Friday evenings and Saturdays at our downtown Washington, D.C. campus. Occasionally, courses may meet on weekdays during the day or evening.
Program Length
Six courses over one semester. Students are not required to enroll continuously and have up to two years to complete the program.
Program Cost
Tuition is $895.00 per course. Total program tuition including all six courses is $5,370.00. Most course materials are included.

Learn more about funding or financing your certificate >>
Start Date
International Business Management courses are open enrollment and offered throughout the year, though some courses may be available in the spring or fall semester only. Students are encouraged to complete the courses in sequence. Please see course schedule below for the next start date.
Program Overview
The International Business Management certificate program provides participants with the knowledge and skills to compete effectively in the ever-changing global business environment. Upon completion of the program, participants will have obtained the knowledge to assist them with the special needs of international business markets and will have developed skills to capitalize on global business opportunities.
Each course offered in the Certificate in International Business Management program is designed to focus on strategic planning, decision-making, problem-solving, and technology management to meet the unique needs of international business leaders. Faculty have been selected from distinguished Georgetown University faculty and international business professionals.
Program Objectives
Upon successful completion of the program, participants will be able to:
Adapt key marketing principles (price, product, promotion, and place) to craft international market penetration strategies
Gain perspective on international trade rules, regulations, and trends
Analyze human resources and labor policies and practices that impact working across borders
Apply risk management and hedging strategies to minimize the impact of foreign exchange markets on business decisions
Examine international supply chains to identify dependencies, risks, and opportunities

Develop skills in strategic planning, decision-making, and problem-solving relevant to international markets
Certificate Requirements
To receive the Certificate in International Business Management from Georgetown University, participants must successfully complete five (5) required courses and one (1) elective course for a total of 10.80 Continuing Education Units (CEUs), which is equivalent to 108.0 contact hours. All six courses must be completed within a two-year period.
| | Course Name | Course Type | CEUs |
| --- | --- | --- | --- |
| 1 | Global Business Strategy | Required | 1.80 |
| 2 | International Trade and Policy | Required | 1.80 |
| 3 | International Marketing Management | Required | 1.80 |
| 4 | Global Org Behavior & International HRM | Required | 1.80 |
| 5 | Principles of Finance | Required | 1.80 |
| 6 | Elective | Elective | 1.80 |
| Total | 5 Required Courses + 1 Elective Course | | 10.80 |
See below for course schedules and registration information.
Program Prerequisites
Program participants must have a bachelor's degree or the equivalent.
International Students
Georgetown University cannot sponsor student visas for non-credit professional certificate programs, however, international students who enter the U.S. on a valid visa are eligible to enroll in courses. For more information, please see our Frequently Asked Questions. A TOEFL examination for non-native speakers of English is not required but students are expected to read, write and comprehend English at the graduate level to fully participate in and gain from the program.
How to Enroll
This certificate is an open enrollment program. No application is required and registration is available by clicking the course links below. Course registration is complete when payment is processed and you receive a confirmation email.
Required:
Global Business Strategy
Global Organizational Behavior and International Human Resource Management
International Marketing Management
International Trade and Policy
Principles of Finance
Electives:
International Finance
International Logistics
---
Course Schedule
Course Name
Semester and Section
Required
Fall 2017
Global Business Strategy

Not currently scheduled

Section 01

Fri, 6:30 PM - 9:30 PM
Aug 18, 2017 to Aug 25, 2017
640 Mass Ave.

Sat, 9:00 AM - 4:00 PM
Aug 19, 2017 to Aug 26, 2017
640 Mass Ave.

Status:

Open

Required
Fall 2017
Principles of Finance

Not currently scheduled

Section 01

Fri, 6:30 PM - 9:30 PM
Sep 08, 2017 to Sep 15, 2017
640 Mass Ave.

Sat, 9:00 AM - 4:00 PM
Sep 09, 2017 to Sep 16, 2017
640 Mass Ave.

Status:

Open

Section 101

Online

Nov 06, 2017 to Nov 20, 2017

Status:

Open

Required
Fall 2017
International Trade and Policy

Not currently scheduled

Section 01

Fri, 6:30 PM - 9:30 PM
Sep 22, 2017 to Sep 29, 2017
640 Mass Ave.

Sat, 9:00 AM - 4:00 PM
Sep 23, 2017 to Sep 30, 2017
640 Mass Ave.

Status:

Open

Required
Fall 2017
Global Organizational Behavior and International Human Resource Management

Not currently scheduled

Section 01

Fri, 6:30 PM - 9:30 PM
Oct 13, 2017 to Oct 20, 2017
640 Mass Ave.

Sat, 9:00 AM - 4:00 PM
Oct 14, 2017 to Oct 21, 2017
640 Mass Ave.

Status:

Open

Required
Fall 2017
International Marketing Management

Not currently scheduled

Section 01

Fri, 6:30 PM - 9:30 PM
Nov 10, 2017 to Nov 17, 2017
640 Mass Ave.

Sat, 9:00 AM - 4:00 PM
Nov 11, 2017 to Nov 18, 2017
640 Mass Ave.

Status:

Open

Electives
Fall 2017
International Logistics

Not currently scheduled

Section 01

Fri, 6:30 PM - 9:30 PM
Oct 27, 2017 to Nov 03, 2017
640 Mass Ave.

Sat, 9:00 AM - 4:00 PM
Oct 28, 2017 to Nov 04, 2017
640 Mass Ave.

Status:

Open

Electives
Fall 2017
International Finance

Not currently scheduled

Section 01

Fri, 6:30 PM - 9:30 PM
Dec 01, 2017 to Dec 08, 2017
640 Mass Ave.

Sat, 9:00 AM - 4:00 PM
Dec 02, 2017 to Dec 09, 2017
640 Mass Ave.

Status:

Open