Executive Certificate in Leadership Coaching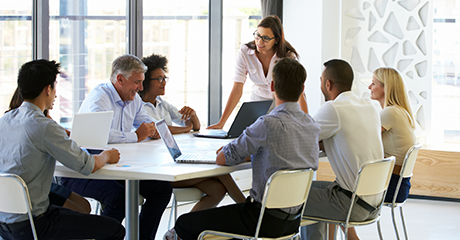 ---
Ideal for
Experienced performance management professionals and accomplished organizational leaders seeking a career transition or to expand their portfolio of skills. Coaches and consultants seeking certification from the International Coach Federation or who would like to build their organizational leadership development skills can also benefit from this program.
Program Format
This cohort program typically meets for three consecutive days—Wednesday through Friday—once per month at our downtown Washington, D.C. campus. There are additional meetings with learning team coaches and individual coaching by an assigned faculty member which are arranged to fit the schedules of participants. Participants also complete supervised coaching of three clients for a period of three months each.
Program Length
Eight required courses, as well as extensive experiential training and self-reflection, are completed over a period of eight months.
Program Cost
Total program tuition including all eight courses is $11,995.00. Textbooks are not included in tuition.

Learn more about funding or financing your certificate >>
Start Date

This cohort program admits new students during the Spring, Summer, and Fall semesters.
Program Overview
Taught by academics and experienced practitioners, the highly competitive and ICF-accredited Certificate in Leadership Coaching program examines the links between coaching and organization development.
Change is essential for organizations to grow and adapt to today's rapidly shifting marketplace, yet people and organizations are naturally resistant to change. Leadership coaching can facilitate productive change in persons, teams, and systems by enabling leaders, managers, and employees to uncover potential that might otherwise go untapped.
The ability to coach leaders is a core competency for those helping organizations to develop. Through coaching, leaders learn how to optimize the value of teams and organizations. Leadership coaching helps clarify vision, beliefs, and values, and stretches the capacity to lead and influence. Leaders then become catalysts for change within their organizations.
Required:
Coaching Integration Seminar: Leveraging Your Learning and Moving Forward
Coaching Practicum
Coaching Teams and Groups
Coaching to Create Breakthroughs: Defining and Practicing Elements of the Coaching Relationship
Coaching to Stage Development and Leadership Presence
Final Assessments
Flow of Coaching
Leadership Coaching as an Organization Intervention
---
Course Schedule
Course Name
Semester and Section
Required
Spring 2017
Summer 2017
Fall 2017
Final Assessments

Enrollment closed

Section 01

Wed,
Jan 25, 2016 to Aug 25, 2017

Status:

Late Enrollment

Not currently scheduled

Section 01

Fri,
Jun 30, 2017 to Dec 01, 2017

Status:

Open

Not currently scheduled

Section 01

Wed,
Sep 13, 2017 to May 11, 2018

Status:

Open

Required
Spring 2017
Summer 2017
Fall 2017
Coaching Practicum

Enrollment closed

Section 01

Thu, 1:00 PM - 5:00 PM
Jan 26, 2017
640 Mass Ave.

Thu, 1:00 PM - 5:00 PM
Feb 23, 2017
640 Mass Ave.

Thu, 1:00 PM - 5:00 PM
Mar 30, 2017
640 Mass Ave.

Thu, 1:00 PM - 5:00 PM
May 04, 2017
640 Mass Ave.

Thu, 1:00 PM - 5:00 PM
Jun 01, 2017
640 Mass Ave.

Thu, 1:00 PM - 5:00 PM
Jun 29, 2017
640 Mass Ave.

Status:

Open

Not currently scheduled

Not currently scheduled

Required
Spring 2017
Summer 2017
Fall 2017
Coaching to Stage Development and Leadership Presence

Enrollment closed

Section 01

Wed/Thu/Fri, 8:30 AM - 5:00 PM
May 03, 2017 to May 05, 2017
640 Mass Ave. , C103A

Status:

Open

Not currently scheduled

Section 01

Wed, 8:30 AM - 5:00 PM
Jul 19, 2017
640 Mass Ave. , C103A

Thu, 8:30 AM - 4:30 PM
Jul 20, 2017
640 Mass Ave. , C103A

Fri, 8:30 AM - 5:00 PM
Jul 21, 2017
640 Mass Ave. , C103A

Status:

Open

Not currently scheduled

Section 01

Wed, 8:30 AM - 5:00 PM
Jan 03, 2018
640 Mass Ave.

Thu, 8:30 AM - 5:00 PM
Jan 04, 2018
640 Mass Ave.

Fri, 8:30 AM - 4:30 PM
Jan 05, 2018
640 Mass Ave.

Status:

Open

Required
Spring 2017
Summer 2017
Fall 2017
Coaching to Create Breakthroughs: Defining and Practicing Elements of the Coaching Relationship

Enrollment closed

Not currently scheduled

Section 01

Wed, 8:30 AM - 5:00 PM
May 17, 2017
640 Mass Ave. , C103A

Thu, 8:30 AM - 4:30 PM
May 18, 2017
640 Mass Ave. , C103A

Fri, 8:30 AM - 5:00 PM
May 19, 2017
640 Mass Ave. , C103A

Status:

Open

Not currently scheduled

Section 01

Wed, 8:30 AM - 5:00 PM
Oct 11, 2017
640 Mass Ave.

Thu, 8:30 AM - 5:00 PM
Oct 12, 2017
640 Mass Ave.

Fri, 8:30 AM - 4:30 PM
Oct 13, 2017
640 Mass Ave.

Status:

Open

Required
Spring 2017
Summer 2017
Fall 2017
Coaching Teams and Groups

Enrollment closed

Section 01

Wed/Thu/Fri, 8:30 AM - 5:00 PM
May 31, 2017 to Jun 02, 2017
640 Mass Ave. , C103A

Status:

Open

Not currently scheduled

Section 01

Wed, 8:30 AM - 5:00 PM
Sep 06, 2017
640 Mass Ave. , C103A

Thu, 8:30 AM - 5:00 PM
Sep 07, 2017
640 Mass Ave. , C103A

Fri, 8:30 AM - 4:30 PM
Sep 08, 2017
640 Mass Ave. , C103A

Status:

Open

Not currently scheduled

Section 01

Wed, 8:30 AM - 5:00 PM
Feb 07, 2018
640 Mass Ave.

Thu, 8:30 AM - 5:00 PM
Feb 08, 2018
640 Mass Ave.

Fri, 8:30 AM - 4:30 PM
Feb 09, 2018
640 Mass Ave.

Status:

Open

Required
Spring 2017
Summer 2017
Fall 2017
Flow of Coaching

Enrollment closed

Not currently scheduled

Section 01

Tue, 8:30 AM - 5:00 PM
Jun 13, 2017
640 Mass Ave. , C103A

Wed, 8:30 AM - 5:00 PM
Jun 14, 2017
640 Mass Ave. , C103A

Thu, 8:30 AM - 5:00 PM
Jun 15, 2017
640 Mass Ave. , C103A

Fri, 8:30 AM - 4:30 PM
Jun 16, 2017
640 Mass Ave. , C103A

Status:

Open

Not currently scheduled

Section 01

Tue/Wed/Thu, 8:30 AM - 5:00 PM
Nov 14, 2017 to Nov 16, 2017
640 Mass Ave.

Fri, 8:30 AM - 4:30 PM
Nov 17, 2017
640 Mass Ave.

Status:

Open

Required
Spring 2017
Summer 2017
Fall 2017
Coaching Integration Seminar: Leveraging Your Learning and Moving Forward

Enrollment closed

Section 01

Wed/Thu/Fri, 8:30 AM - 5:00 PM
Jun 28, 2017 to Jun 30, 2017
640 Mass Ave. , C103A

Status:

Late Enrollment

Not currently scheduled

Section 01

Wed, 8:30 AM - 5:00 PM
Oct 04, 2017
640 Mass Ave. , C103A

Thu, 8:30 AM - 5:00 PM
Oct 05, 2017
640 Mass Ave. , C103A

Fri, 8:30 AM - 4:30 PM
Oct 06, 2017
640 Mass Ave. , C103A

Status:

Open

Not currently scheduled

Section 01

Wed, 8:30 AM - 5:00 PM
Mar 14, 2018
640 Mass Ave.

Thu, 8:30 AM - 5:30 PM
Mar 15, 2018
640 Mass Ave.

Fri, 8:30 AM - 4:30 PM
Mar 16, 2018
640 Mass Ave.

Status:

Open

Required
Spring 2017
Summer 2017
Fall 2017
Leadership Coaching as an Organization Intervention

Enrollment closed

Not currently scheduled

Not currently scheduled

Section 01

Wed, 8:30 AM - 5:00 PM
Sep 13, 2017
640 Mass Ave.

Thu, 8:30 AM - 5:00 PM
Sep 14, 2017
640 Mass Ave.

Fri, 8:30 AM - 4:30 PM
Sep 15, 2017
640 Mass Ave.

Status:

Open