Executive Certificate in Facilitation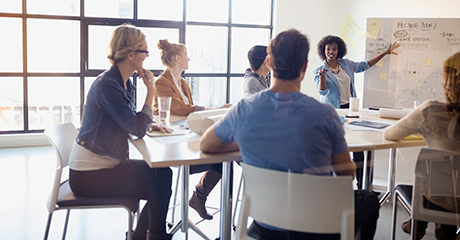 ---
Ideal for
Senior managers and executives who wish to learn how to design, host, and facilitate meaningful and productive gatherings.
Program Format
This cohort-based program meets for three consecutive days—Monday through Wednesday—once per month at our downtown Washington, D.C. campus. There is minimal additional work that is completed outside of the classroom.
Program Length
Four courses over four months.
Program Cost
Total program tuition including all four courses is $7,980.00. Textbooks are not included in tuition.

Learn more about funding or financing your certificate >>
Start Date

Now accepting applications for Fall 2017. Application deadline is August 1. Classes begin in November.
Program Overview
The Georgetown University Executive Certificate in Facilitation teaches senior managers and executives how to design and facilitate face-to-face meetings and gatherings. Participants will learn how to create magic in the room by bringing about shifts in thinking, new alignments and consensus, and commitment to fostering action outside of the room that leads to momentum and results.
The curriculum provides a dual focus – the technical approach will provide new skills and knowledge to participants, and the transformational approach will connect the participant with his or her own identity and presence as a facilitator. Participants will learn through interactive classroom instruction, reading and reflection, and by practicing the skills they are learning in real life settings. While in the program, students will develop and present a facilitation design, deliver a facilitated experience, and receive constructive feedback from both faculty and fellow students on all practical aspects. Students will also have the opportunity to learn from experts in the facilitation field who specialize in specific content areas including facilitating vision and strategy, working in the emotional domain, and facilitating cross-cultural and diverse constituencies.
Program Objectives
Upon successful completion of the program, participants will be able to:
Design productive and inspirational meetings
Collect group needs and facilitate gatherings to advance the work of groups
Construct and deliver innovative facilitation modalities
Express how his/her leadership presence can bring powerful outcomes in both small and large group settings
Certificate Requirements
To receive the Executive Certificate in Facilitation from Georgetown University, students must successfully complete four (4) required courses for a total of 8.40 Continuing Education Units (CEUs), which is equivalent to 84.0 contact hours. The program must be completed in sequence as a cohort over the four-month duration of the program.
| | Course Name | Course Type | CEUs |
| --- | --- | --- | --- |
| 1 | Being a Facilitator | Required | 2.10 |
| 2 | The Art of Facilitation Design | Required | 2.10 |
| 3 | Facilitating Teams and Groups | Required | 2.10 |
| 4 | Facilitating in the 21st Century | Required | 2.10 |
| Total | 4 Required Courses | | 8.40 |
See below for course schedules and application information.
Program Prerequisites
Applicants must have the following prerequisites to ensure the appropriate knowledge, experience, and mindset to succeed in the program:
A bachelor's degree
At least 2-4 years of experience leading groups or teams
International Students
Georgetown University cannot sponsor student visas for non-credit professional certificate programs, however, international students who enter the U.S. on a valid visa are eligible to enroll in courses. For more information, please see our Frequently Asked Questions. A TOEFL examination for non-native speakers of English is not required but students are expected to read, write and comprehend English at the graduate level to fully participate in and gain from the program.
Admissions Process & Philosophy
The applications review committee is tasked with choosing applicants that can create a learning community that includes students who bring diversity, a desire to learn, and the time and commitment at this point in their lives for their own transformational learning. The interaction and contribution of our students is an important part of the learning in the cohort. With that in mind, we carefully choose qualified applicants who share our focus on being attuned to the systems within which they lead.
The program has a selective admissions process. Applications and supporting materials must be submitted online through the MySCS Portal. Applicants are responsible for uploading all required application materials by the posted deadline for their desired semester of entry. Students will be notified of their admission decision via e-mail within 2-4 weeks after the application deadline.
Before applying, applicants should download Application Checklist. Applicants are encouraged to review cohort schedules before applying to confirm that they are able to commit to all scheduled course dates required to successfully complete the program.
Required:
Being a Facilitator
Facilitating in the 21st Century
Facilitating Teams and Groups
The Art of Facilitation Design
---
Course Schedule
Course Name
Semester and Section
Required
Fall 2017
Being a Facilitator

Not currently scheduled

Section 01

Mon/Tue/Wed, 9:00 AM - 5:00 PM
Nov 06, 2017 to Nov 08, 2017
640 Mass Ave.

Status:

Open

Required
Fall 2017
The Art of Facilitation Design

Not currently scheduled

Section 01

Mon/Tue/Wed, 9:00 AM - 5:00 PM
Dec 04, 2017 to Dec 06, 2017
640 Mass Ave.

Status:

Open

Required
Fall 2017
Facilitating Teams and Groups

Not currently scheduled

Section 01

Mon/Tue/Wed, 9:00 AM - 5:00 PM
Jan 08, 2018 to Jan 10, 2018
640 Mass Ave.

Status:

Open

Required
Fall 2017
Facilitating in the 21st Century

Not currently scheduled

Section 01

Mon/Tue/Wed, 9:00 AM - 5:00 PM
Feb 05, 2018 to Feb 07, 2018
640 Mass Ave.

Status:

Open