Fundamentals
These introductory, on-campus courses offer the opportunity to explore a specific subject area in a comprehensive, five-week undergraduate course. See below for the Fundamentals courses that will be offered in Summer 2017. For the full list of course offerings, visit our Summer College Courses and Online Courses pages.
View Courses
Displaying 48 courses
Fundamentals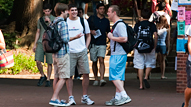 At a Glance
Session I - June 4 - July 7, 2017
Session II - July 9 - August 11, 2017
Tuition - $1,302* per credit
Pre-college fee - $598
Housing - $1,200* (per session optional)
Meals - $280* / 19 meals per week (estimated and optional)
3 college credits each
*Estimated and subject to change
Already Accepted?
See the Next Steps for registration.