Executive Certificate in Organizational Consulting and Change Leadership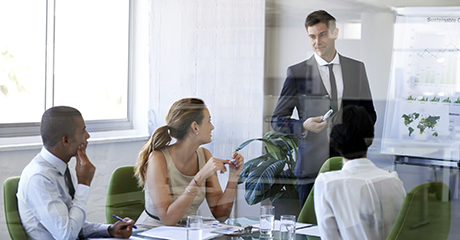 ---
Ideal for
Organizational leaders and other professionals responsible for guiding organizations through periods of change as well as consultants and coaches looking to develop new consulting skills.
Program Format
This cohort program teaches students the skills of consulting through experiential activities in a laboratory-type setting. Courses typically meet for three consecutive days—Thursday through Saturday—once per month at our downtown Washington, D.C. campus. A required Client Project Practicum is completed outside of class.
Program Length
Seven courses completed over seven months.
Program Cost
Total program tuition including all seven courses is $6,995.00. Textbooks are not included in tuition.

Learn more about funding or financing your certificate >>
Start Date
Spring 2018 (January)

- Application will be available July 2017.
Program Overview
The Executive Certificate in Organizational Consulting and Change Leadership is grounded in organizational and leadership theory with a strong emphasis on practical skills and application. This is a cohort-based program where students practice the skills of consulting and change leadership through practicums, external "real-world" projects and experiential simulations in a laboratory-type setting.
The cohort environment provides an exciting and safe accelerated learning lab in which students practice new behaviors and quickly develop new skills based on direct, real-time feedback from fellow students and faculty. The program faculty, all of whom are senior practitioners in the field, also provide coaching and developmental guidance as needed.
Program Objectives
Upon successful completion of the program, participants will be able to:
Understand the dynamics and underlying drivers in group, organizational and large system behavior
Build collaborative partnerships and negotiate agreements with organizational leaders
Apply best-practice tools and strategies to build highly engaged organizations and to improve business performance
Lead and facilitate diverse groups to ensure productive conversations and truly collaborative solutions
Demonstrate strong leadership presence in volatile situations
Design successful interventions and project plans to accelerate change and minimize organizational resistance.
Certificate Requirements
To receive the Executive Certificate in Organizational Consulting and Change Leadership from Georgetown University, students must successfully complete seven (7) required courses for a total of 17.60 Continuing Education Units (CEUs), which is equivalent to 176.0 contact hours. The program must be completed in sequence as a cohort over seven months.
| | Course Name | Course Type | CEUs |
| --- | --- | --- | --- |
| 1 | Basic Foundations: Organizational Consulting and Change Leadership | Required | 3.20 |
| 2 | Organization & Change Theory | Required | 2.40 |
| 3 | Organizational Assessment & Diagnosis | Required | 2.40 |
| 4 | Group Dynamics: Leading & Sustaining Change | Required | 2.40 |
| 5 | Designing Interventions: Intention, Impact & Results | Required | 2.40 |
| 6 | Essential Facilitation Skills for Consultants and Leaders | Required | 2.40 |
| 7 | Organizational Consulting Capstone | Required | 2.40 |
| Total | 7 Required Courses | | 17.60 |
See below for course schedules and application information.
Program Prerequisites
A bachelor's degree or equivalent.
A minimum of five years of education, training and/or professional experience in coaching, human resources, leadership, organization development or a related field.
International Students
Georgetown University cannot sponsor student visas for non-credit professional certificate programs, however, international students who enter the U.S. on a valid visa are eligible to enroll in courses. For more information, please see our Frequently Asked Questions. A TOEFL examination for non-native speakers of English is not required but students are expected to read, write and comprehend English at the graduate level to fully participate in and gain from the program.
Application Process
The program has a competitive admissions process. For each cohort, an admissions selection committee chooses a group of students who represent a variety of backgrounds, occupations, and goals for the program to enrich the classroom experience. Students must be open to feedback and personal growth, have a capacity for self-examination, and have a willingness to challenge one's own beliefs.
Applications and supporting materials must be submitted online through the MySCS Portal. Applicants are responsible for uploading all required application materials by the posted deadline for their desired semester of entry. Students will be notified of their admission decision via e-mail within 2-4 weeks after the application deadline.
Required:
Basic Foundations: Organizational Consulting and Change Leadership
Designing Interventions: Intention, Impact and Results
Essential Facilitation Skills for Consultants and Leaders
Group Dynamics: Leading & Sustaining Change
Organization & Change Theory
Organizational Assessment & Diagnosis
Organizational Consulting Capstone
---
Course Schedule