Executive Certificate in Transformational Leadership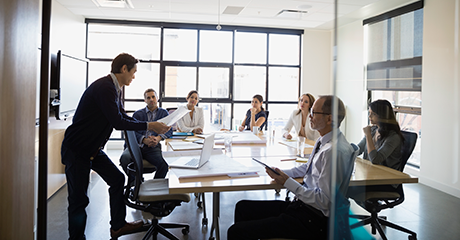 ---
Ideal for
Current or emerging senior leaders from public and private sectors seeking to achieve greater effectiveness and mastery as an organizational leader.
Program Format
This cohort based program meets once per month for three consecutive days—typically Wednesday through Friday—at our downtown Washington, D.C. campus. Additional one-on-one meetings with a Leadership Coach are arranged to fit the schedule of each participant, and students complete a final practicum project.
Program Length
Seven required courses, including a practicum, over a period of eight months.
Program Cost
Total program tuition including all seven courses is $11,995.00. Most course materials are included.

The Executive Certificate in Transformational Leadership Scholarship Fund provides partial funding for student leaders who best exemplify Georgetown's Jesuit values. Learn more about funding or financing your certificate >>
Start Date

Now accepting applications for Fall 2017. Application deadline is August 1. Classes begin in September.
Program Overview
Designed for current or emerging senior leaders, the Georgetown University Executive Certificate in Transformational Leadership is a highly experiential program that offers hands-on practice in transformational leadership. The program focuses on the inner work of leadership in addition to expanding participants' understanding of how to lead in the midst of change and complexity. Specifically, the program emphasizes leadership development on three levels:
Learning about self as a leader and instrument of change;
Creating productive and fulfilling relationships in a leadership role and;
Understanding leadership within complex systems.
Over eight months and seven courses, program participants complete a robust, interdisciplinary, and highly applied curriculum that includes:
Learning from cutting edge leadership development research, top faculty, and training on proven leadership practices
One-on-one and small group learning experiences
Instruction from experts, including personal one-on-one coaching with Georgetown-trained leadership coaches
Opportunities for substantive self-assessment, reflection and feedback
Application of learning in the form of a leadership practicum
Engaged learning community of peers
Program Objectives
Upon completion of the program, leaders will gain:
Significantly expanded capacity and skill as a leader;
Understanding of essential distinctions about leadership, teams, change, communication, vision and strategy that can lead to powerful new outcomes within own organization;
A personal leadership vision to guide continued development and success;
Deepened self-awareness and access to choices available through leadership role;
Personal experience of transformational learning and awareness of how to enact change in one's own organization; and
Learning community and network of colleagues across sectors.
Certificate Requirements
To receive the Executive Certificate in Transformational Leadership from Georgetown University, students must successfully complete seven (7) required courses for a total of 15.10 Continuing Education Units (CEUs), which is equivalent to 151.0 contact hours. The program must be completed in sequence as a cohort over the eight-month duration.
| | Course Name | Course Type | CEUs |
| --- | --- | --- | --- |
| 1 | Leader as Self: Intra-personal Leadership | Required | 2.40 |
| 2 | Leader & Others: Inter-personal Leadership | Required | 2.40 |
| 3 | Leader & Organization: Self & Others | Required | 2.40 |
| 4 | Leader in Action: Leading Transformational Change | Required | 2.40 |
| 5 | Leader & Development: Leading Through Complexity | Required | 2.40 |
| 6 | Integration Seminar: Leading the Future | Required | 2.40 |
| 7 | Practicum and Program Capstone | Required | 0.70 |
| Total | 7 Required Courses | | 15.10 |
See below for course schedules and application information.
Program Prerequisites
Applicants must have the following prerequisites to ensure the appropriate knowledge, experience, and mindset to succeed in the program:
A bachelor's degree
At least eight years of leadership experience in government, private sector, or a non-profit organization
Openness to feedback; capacity for self-examination; willingness to challenge one's own beliefs
International Students
Georgetown University cannot sponsor student visas for non-credit professional certificate programs, however, international students who enter the U.S. on a valid visa are eligible to enroll in courses. For more information, please see our Frequently Asked Questions. A TOEFL examination for non-native speakers of English is not required but students are expected to read, write and comprehend English at the graduate level to fully participate in and gain from the program.
Admissions Process & Philosophy
The applications review committee is tasked with choosing applicants that can create a learning community that includes students who bring diversity, a desire to learn, and the time and commitment at this point in their lives for their own transformational learning. The interaction and contribution of our students is an important part of the learning in the cohort. With that in mind, we carefully choose qualified applicants who share our focus on coaching leaders and being attuned to the systems within which they lead.
The certificate program has a highly competitive and selective admissions process. Applications and supporting materials must be submitted online through the MySCS Portal. Applicants are responsible for uploading all required application materials by the posted deadline for their desired semester of entry. Students will be notified of their admission decision via e-mail within 2-4 weeks after the application deadline.
Before applying, applicants are encouraged to review cohort schedules to confirm that they are able to commit to all scheduled course dates required to successfully complete the program.
Executive Certificate in Transformational Leadership Scholarship Fund

The Executive Certificate in Transformational Leadership Scholarship Fund allows Georgetown University to further the mission of the Institute for Transformational Leadership (ITL) to develop leaders who will create a more sustainable and compassionate future. The scholarship will be awarded to student leaders who best exemplify Georgetown's Jesuit values of Women and Men for Others and Community in Diversity through their work in social justice and diversity and inclusion. Learn more >>
Required:
Integration Seminar: Leading the Future
Leader and Development: Leading through Complexity and Challenge
Leader and Organization: Self and Others
Leader and Others: Inter-personal Leadership
Leader as Self: Intra-personal Leadership
Leader in Action: Leadership Presence and the Capacity to Lead Transformational Change
Practicum and Program Capstone
---
Course Schedule
Course Name
Semester and Section
Required
Fall 2017
Leader as Self: Intra-personal Leadership

Not currently scheduled

Section 01

Wed/Thu/Fri, 8:30 AM - 4:30 PM
Sep 27, 2017 to Sep 29, 2017
640 Mass Ave.

Status:

Open

Required
Fall 2017
Leader and Others: Inter-personal Leadership

Not currently scheduled

Section 01

Wed/Thu/Fri, 8:30 AM - 4:30 PM
Oct 25, 2017 to Oct 27, 2017
640 Mass Ave.

Status:

Open

Required
Fall 2017
Leader and Organization: Self and Others

Not currently scheduled

Section 01

Wed/Thu/Fri, 8:30 AM - 4:30 PM
Dec 06, 2017 to Dec 08, 2017
640 Mass Ave.

Status:

Open

Required
Fall 2017
Leader in Action: Leadership Presence and the Capacity to Lead Transformational Change

Not currently scheduled

Section 01

Wed/Thu/Fri, 8:30 AM - 4:30 PM
Jan 10, 2018 to Jan 12, 2018
640 Mass Ave.

Status:

Open

Required
Fall 2017
Leader and Development: Leading through Complexity and Challenge

Not currently scheduled

Section 01

Wed/Thu/Fri, 8:30 AM - 4:30 PM
Feb 14, 2018 to Feb 16, 2018
640 Mass Ave.

Status:

Open

Required
Fall 2017
Integration Seminar: Leading the Future

Not currently scheduled

Section 01

Wed/Thu/Fri, 8:30 AM - 4:30 PM
Mar 14, 2018 to Mar 16, 2018
640 Mass Ave.

Status:

Open

Required
Fall 2017
Practicum and Program Capstone

Not currently scheduled

Section 01

Thu, 8:30 AM - 4:30 PM
Jun 14, 2018
640 Mass Ave. , C228

Status:

Open