Campus Information
The campus is located in a residential section of northwest Washington, DC, at 37th and O Streets NW. Within walking distance is M Street, which has many shops, restaurants, grocery and drug stores, and specialty vendors. Just a few miles away, you will find the National Mall and Monument, White House, and the U.S. Capitol. There are plenty of shuttles, buses and taxis that transport students to other areas within the District or to nearby Metro stations. The campus is conveniently located near three major airports in the DC area.
Reagan National Airport (6 miles from Georgetown University)
Dulles International Airport (25 miles from Georgetown University)
Baltimore/Washington International Airport (40 miles from Georgetown University)
Please view the Campus Map for additional information.
Campus Life & Housing
At Georgetown, the pre-college experience expands far beyond the classroom walls. When students are not in class, they will have the opportunity to attend campus events and social activities, make new friends, and have summer fun both on and off campus. Our extensive calendar of activities includes events where students can take advantage of dances, performers, carnivals, movies, and more. For Immersion Program students, we also provide off-campus trips, including touring the National Mall, cheering on the D.C. Nationals, and enjoying an afternoon at Six Flags America. Our evening discussion workshops focus on a variety of topics such as preparing students for their path to college and engaging in conversations about diversity and inclusion education, as well as programs that engage students in reflection and action – rooted in Georgetown's identity as a Jesuit and Catholic, student-centered university.
As a summer high school student, you will live in the residence halls located in the Southwest Quad. Each residence hall contains study areas, laundry rooms, and lounges that are used for studying and large gatherings. Each double room is equipped with typical college furniture – bed, desks with hutches, bookshelves, drawers, built-in closets, carpeting, air-conditioning, desk chairs, and wireless access.
Roommates
"Can I choose my roommate?" – That's our top question asked leading into each summer. We cannot guarantee a roommate request in order to support a true college living and learning experience. Students will meet their roommates at check-in.
Commuter Students
If you are a summer college credit student and decide to commute daily to Georgetown, you will have the same access to campus resources as residential students. Nonresident students are encouraged to participate in the full range of summer events — from movie nights and social activities to cookouts and dances.
Meal Plans & Dining
Stick with the meal plan and have dinner in the dining hall, go for something quick at the Leavey Center food court or take a short walk to dozens of restaurants and familiar quick serve dining options in the Georgetown neighborhood. From distinctive vegetarian fare and top-notch burgers, to healthy eating choices and famous cupcakes, you'll find exactly what you're looking for within walking distance of campus.
Please note that a 19 meals per week meal plan is provided to students participating in one-week Institutes, three-week Immersions, and the three-week College Prep Programs. Students in credit courses (including the Fundamental/Intro Courses and Summer Honors Intensive Programs) have the option of purchasing meals directly through University Dining.
Be A Summer HOYA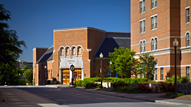 Attending the summer programs at Georgetown has definitely been the highlight of my summer." Anthony DuPrau,