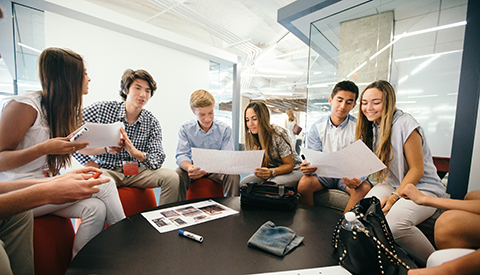 Selecting a Program
We offer both non-credit Pre-College Programs and College Credit Courses.
Our non-credit Pre-College Programs span from one to three weeks and offer the opportunity to experience life as a college student, without the pressure of grades.
College Prep: This three-week program provides your son or daughter with the skills and strategies needed to gain a competitive edge and get a head start on college.
1-Week Institutes: These structured, accelerated programs provide hands-on learning experiences that combines guest speakers, collaborative workshops, and class trips to some of D.C.'s top institutions.
3-Week Immersion Programs: These programs provide students with an intensive exploration of a single subject area through case studies, workshops, and off-site trips in and around the nation's capital.
The College Credit Courses provide opportunities to take undergraduate courses for credit during a five-week session. Students may earn up to 12 credits during the full summer term.
Fundamental/Intro Courses: These introductory courses offer the opportunity to explore a specific subject area in a comprehensive, five-week undergraduate course.
Summer Honors Intensive: Tailored to highly motivated high school students, the Honors Intensive provides the opportunity to enroll in up to four courses, earning up to 12 college credits during the summer.
Please note that approval of a student's application does not guarantee that the student will have a spot in his or her preferred program of choice. A student must first receive application approval from the Office of Admissions before registering; a student will only be guaranteed a spot in his or her program of choice after registering and submitting tuition payment, as course availability allows.
Independence & Supervision
Your child's safety and health are our highest priority. Resident Counselors (RCs) live in the residence halls and supervise all students. These trained professionals encourage and maintain a positive community throughout the summer.
Independence is the primary theme of this stage in your student's development and we hope that your son or daughter comes to Georgetown ready to embrace these new experiences. Because many students are away from parental supervision for the first time, students will need to have the self-discipline to manage their own time and set their priorities, in addition to being mindful of eating balanced meals, getting enough sleep, and doing their own laundry—all without parental involvement. Our goal is to create a positive, safe environment that supports the academic success of your son or daughter.
Safety
The safety and security of all members of the University community are preconditions of the learning, dialogue, and personal growth at Georgetown. We work comprehensively to promote public safety on our campuses, in all University facilities, at our events, and in international exchange programs.
Georgetown University has a Protection of Minors Policy to protect those under 18 years of age who participate in programs and activities associated with the University and to provide guidance and requirements that apply to University students, faculty, and staff who are involved with such programs and activities. The policy also includes requirements for non-University organizations that operate programs or activities involving minors on campus. Additional information about the policy may be found at: protectionofminors.georgetown.edu/policy.
The Georgetown University Police Department (GUPD) conducts coordinated patrols on a regular basis to ensure campus security. GUPD is vested through the District of Columbia Metropolitan Police Department with full arrest power on all campus property. GUPD also works closely with the Metropolitan Police Department and District of Columbia Fire Department to address issues surrounding campus and respond quickly to incidents that may arise.
For students staying off campus, GUPD also operates free escort services, known as Safe Rides, for Georgetown students on campus and between campus and nearby housing. Students can call 202-784-RIDE to request an escort. In addition to individual rides, the shuttle is available for students to use in neighborhood areas surrounding campus.
Summer at Georgetown has professional and experienced staff members who are trained to respond to student needs and emergencies. In the Residence Halls, there is a Resident Counselor (RC) on duty throughout the day.
Parents should be sure to take note of the Campus Leave Policies for the one-week Institutes, three-week Immersions, three-week College Preparatory Programs, and the five-week college credit courses:
Get Connected
"Like" our Georgetown University Summer Programs for High School Students Facebook page to stay connected and obtain information about various topics related to your son or daughter's summer experience in Washington, D.C.
Be A Summer HOYA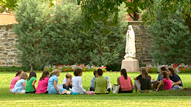 The Medical Immersion Program at Georgetown was a great experience. The program offers so much from the off-site vists, the daily lectures and the on campus activities." Jazzelle DeLaney,