Honoring Our Student Veterans on Tuesday, November 11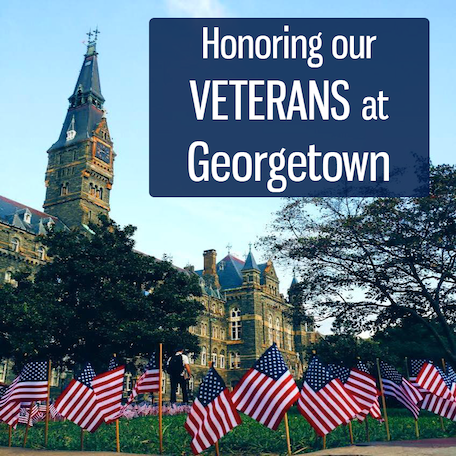 SCS believes that it is important that we take time to recognize student veterans for their military service. On behalf of the School of Continuing Studies, we wish to thank you for your service to our country and to share the following events with you:
1) Honoring our Veterans Event and Job Fair
Date & Time: November 11, 9:30 a.m.- 3:00 p.m.
Location: Georgetown University School of Continuing Studies
Register here
2) Georgetown Veterans Day Ceremony
Date & Time: November 11, 3:30 p.m. - 4:30 p.m.
Location: Copley Lawn, Georgetown University Main Campus
3) Georgetown Basketball Student Veteran & ROTC Member Appreciation Day
Georgetown Hoyas vs. Radford
Date & Time: December, 13, 12:00 p.m.
Location: Verizon Center
Please email cdg44@georgetown.edu with the following information:
- First Name?
- Last Name?
- Net ID?
- How many tickets do you need? (1 or 2)
- Are you an ROTC Member or a GU Student Veteran? (Choose One)
- If you are a Student Veteran - In which branch of the military did you serve?
Please RSVP by Thursday, December 11th at 5:00 p.m. Tickets will be emailed to you the week of the game.