Look at Detroit, and what do you see? Vacant lots, blighted buildings, a vast shell of a city that could encompass the land areas of more than Manhattan and Chicago within its sprawling boundaries? It's Detroit as a story of postindustrial dysfunction, and it's an easy story to tell.
Ian Conyers knows all about this story, and he's weary of it. A master's candidate in Georgetown SCS's Urban & Regional Planning (URP) program, he's under no illusions about the problems facing his hometown, but he insists that it's not Detroit's only narrative, or even its most up-to-date.
"I think that's a story we're tired of hearing," said Conyers, who spent last summer chronicling another side of Detroit on social media.
For his independent study, Conyers attended rallies and other events, interviewed key city leaders, and wrote about the many promising grassroots, private, philanthropic, and government efforts to improve a city that once symbolized the best in American culture and ingenuity.
"We're all pulling for Detroit," Conyers said. "It's a great American city."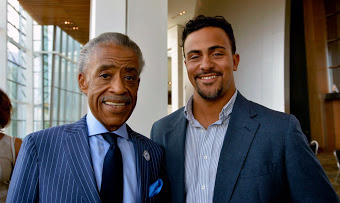 Reverend Al Sharpton and Ian Conyers at Cobo Hall in Detroit.
One City, Two Stories
For all the negative stories coming out of Detroit, there are many positive ones. Yes, there is all that vacant land—some 20 to 40 square miles of it, according to various estimates. But Detroit is planning to turn some of that land to its advantage by creating parks, stabilizing neighborhoods, and building what the nonprofit Detroit Future City calls "a new and diverse open space system for the city."
Then there are the businesses that are moving downtown, from the startups of young, tech-savvy entrepreneurs to such large, established firms as Compuware, Quicken Loans, and the luxury watchmaker Shinola, which hopes to produce at least 500,000 timepieces in Detroit each year.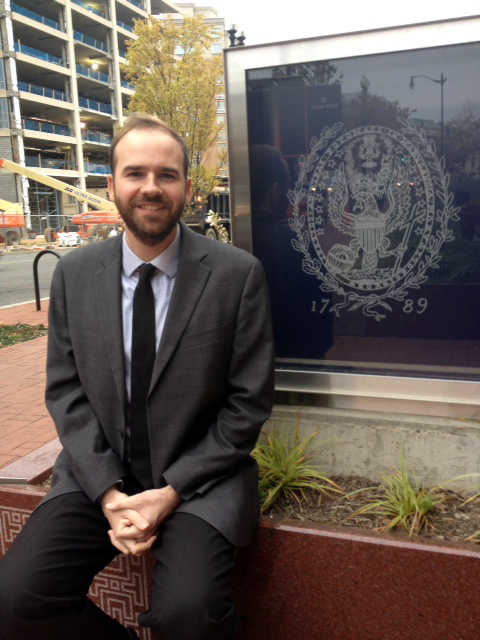 URP Program Director,
Jamie Kralovec
"Detroit sits at a crossroads in terms of revitalization," said URP Program Director Jamie Kralovec, noting that the surge of investor interest is offset by daunting infrastructure needs.
Before coming to Georgetown last fall, Kralovec promoted best urban planning practices for the White House Council on Strong Cities, Strong Communities (SC2), an interagency initiative created by President Obama in 2012 to help revitalize distressed urban communities. Detroit is one of several cities receiving technical assistance from federal teams that work alongside local and regional administrators to help chart a course for improvement.
"In a nutshell," said Kralovec, "how do you strategically prioritize all of Detroit's needs and do this in an inclusive way for all citizens?"
Crises Over Water—and Art
Certainly, any message of inclusion was challenged by the Detroit water department last spring, when it decided to initiate shutoffs to thousands of largely poor households with unpaid bills. The resulting controversy intensified in July, just as the social activist group Netroots was holding its national convention in Detroit, and Conyers covered the ensuing demonstrations that helped lead to a temporary moratorium on cutoffs.
"The whole world knew about the water shutoff in five minutes," he said.
Both positive and negative narratives also emerged in the city's filing for bankruptcy last June and its exit from bankruptcy proceedings several months later under a reorganization that allowed it to avoid $7 billion in debts and plan for fiscal solvency in the future. During that crisis, bad news came with the Detroit Institute of Arts considering the sale of part of its collection to pay the city's bills, and more hopeful news when foundations came to the institution's aid with more than $330 million.
On a more personal level for Conyers, there was heartbreak in August when his grandmother, a retired school teacher, was the victim of a midafternoon carjacking in her own backyard. Conyers wrote about the incident and how his grandparents were thinking about leaving the city. They did move, but ended up staying in Detroit.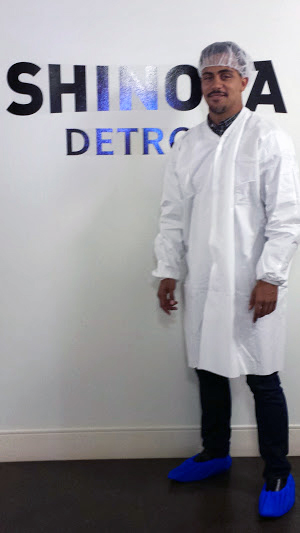 "I'm really glad the people like Ian are exploring Detroit, because he's doing it so sensitively," said Jess Zimbabwe, executive director of the Rose Center for Public Leadership at the Urban Land Institute. A URP faculty member, Zimbabwe is the advisor for Conyers' independent study. As part of its curriculum, the program enables students to pursue urban affairs issues that speak to their interests and passions.
In Washington, D.C., Conyers has served in a variety of community development efforts, including two years as a project manager for the Anacostia Waterfront Initiative. But home is where he wants to work after graduation.
"It's not like we're reinventing Detroit," Conyers said. "It's like we're reminding ourselves of what we are."
Learn more about Georgetown's Master's in Urban & Regional Planning >>>