'The Technology's Already There': TM Students Show How Home Medical Monitors Could Work Better
Caring for patients with degenerative neuromuscular disease is tough enough on family members without their having to double as diagnosticians, troubleshooters, and tech support for home monitoring devices. But that's the role families assume when homebound patients need ventilators, feeding tubes, blood oxygen sensors, and more: each device has its own monitor, but no one monitor "talks" to another or gives a complete picture of the patient's health.
Kayode Ogunsiakan, a registered nurse and recent graduate of Georgetown University's School of Continuing Studies (SCS), knows about this problem firsthand, having cared for a young man with Duchenne Muscular Dystrophy. For his capstone project in the Master of Professional Studies in Technology Management (TM) program, he envisioned a dashboard/user interface that would integrate all of this data, along with the patient's medical record, and provide regular reports as well as alarms, when needed.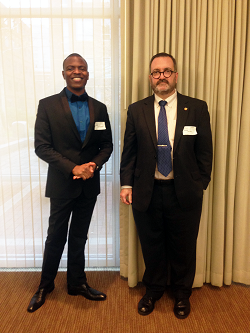 Kayode Ogunsiakan and John Steitz
In December, Ogunsiakan and John Steitz, another recent TM graduate who surveyed 100 in-home medical monitors, presented their findings to staff at the Medical Device "Plug-and-Play" (MD PnP) Interoperability Program at Massachusetts General Hospital, an affiliate of Harvard Medical School. The Boston-based program is primarily concerned with integrating medical monitoring devices in clinical environments, but it also looks at the burgeoning market of home medical devices.
Medical monitoring devices have "gotten cheaper, smaller, more available," said Jean Stanford, a specialist in the area who teaches in the TM program and served as Steitz's and Ogunsiakan's advisor. "We're trying to see how they can be used to manage health care."
Problems with the devices can occur in three areas, Ogunsiakan said: the device's design, the use environment (for example, home versus hospital recovery room), and human factors. With an increasing number of patients being cared for in their homes, managing these problems often becomes the responsibility of family members or other ill-equipped caregivers.
"It's very difficult to manage the ventilator by itself, not to talk of multiple devices," said Ogunsiakan. "So what I proposed was a way to integrate all the devices."
A native of Nigeria, Ogunsiakan now works in an urgent care facility for Kaiser Permanente and at a rehabilitation unit at Sibley Memorial Hospital. He says he's interested in continuing his work on medical monitoring devices. "I'm glad I came to Georgetown," he added. "It's been a wonderful experience."
Steitz has another Georgetown connection: He is the assistant director for Classroom Educational Technology Services. In describing his research, he wrote that home monitoring devices would have fewer false alarms and provide better diagnostic data if the sensors communicated directly with a home Integrated Clinical Environment (ICE) Platform. The ICE, he wrote, "would apply algorithms to the raw data from the sensors, and would issue alarms to the user, to the clinical environment, or to emergency responders, if multiple devices reported readings outside given parameters."
It's doable, Stanford said. "The next step would be for someone to actually go build it."
Or, as Ogunsiakan put it: "The technology's already there—you just have to apply it."