Explosion of Big Data Is Challenging Government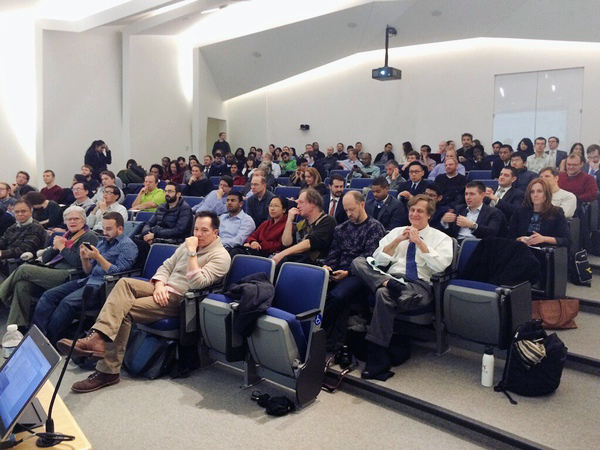 SCS students, faculty, and D.C. data professionals packed the auditorium on January 29 to learn more about data strategies employed by economists, technologists, and entrepreneurs.
The Federal Reserve has many talented people doing data science as part of their work monitoring the U.S. economy. Yet despite the fact that global data is growing by an estimated 40 percent each year, the Fed doesn't have a designated "data scientist"—and that's about to change.
"We're looking at an explosion of data that we've never seen before… and the type of data we're taking into the Fed is increasingly changing," said Micheline Casey, chief data officer for the Board of Governors of the Federal Reserve System, who spoke recently before a packed auditorium at Georgetown's School of Continuing Studies. The January 29 event was sponsored by the Meetup group Data Innovation DC.
Organizing all that information—including a wealth of third-party data from commercial outlets, social media channels, and other non-government sources—is one immense challenge facing the agency. Another is determining what data amid this voluminous "noise" could be useful in understanding and responding to economic trends. Casey is now working to define the data scientist position at the Fed and preparing to set up a data science office.
The audience also heard from Fed economist Tugkan Tuzun, who used big data to make sense of the 2010 "flash crash" that sent the stock market plunging 600 points, and then rebounding, within minutes; and David Lincoln, co-founder of Wise Gateway, which uses big data to help wealth management executives make investment decisions.
For young people interested in an emerging career that offers intellectual challenge, social value, and what appears to be built-in job security for years to come, it would be hard to top data science.
"There's literally this groundswell of interest, but so far there is a lack of people with these skills," said Allen Leis, who teaches in SCS' new Data Science certificate program. "Everybody is working to get educational opportunities."
According to the program description on the SCS website, students in the certificate program learn to "synthesize meaningful narratives from data" in a way that helps organizations operate more efficiently. It's not an easy, or linear, task. Whether graduates entering this constantly changing field are called analysts, data scientists, or business intelligence specialists, they will have an integrated "skill set built from real world experience that a computer science, statistics, or business degree alone does not provide."
The University is also creating a new graduate program in data science on its Main Campus. In the fall of 2015, Georgetown's Graduate School of Arts and Sciences, along with the Department of Computer Science and the Department of Mathematics and Statistics, will offer a Master of Science in Analytics with a concentration in Data Science. This is the first phase of a multi-phase plan that will eventually include concentrations in Business Analytics, offered by the McDonough School of Business, and Biomedical Informatics, offered by the Georgetown University Medical Center.
"It offers interdisciplinarity," said Mathematics Professor Hans Engler, who will be teaching in the program. "I enjoy looking at many different types of problems. People say you get to play in everyone's backyard in this kind of field."
The 40 percent estimate in annual global data growth comes from an-oft cited 2011 report from McKinsey & Company. Using phrases like "enormous trails of data," "a torrent flowing," and "a burgeoning volume," the report struggles to convey just how extraordinary this phenomenon is. It defines "big data" as that which is beyond the scope of typical databases to access, manage, or understand. Yet, ironically, it is this "big data," in all its unwieldiness, that offers the most promise of benefitting private enterprises and national economies.
Casey referred to this as "micro" data—for example, the thousands of individual bank documents the Fed receives each day—as opposed to more traditional "macro" data that it uses to calculate things like inflation and productivity.
"While the macro is still important, the micro is becoming increasingly important," Casey said.
She said the Fed is pursuing answers to four questions: How can we use existing data in new ways? How can we use new data to support current measurements? What aren't we measuring that we should be? And how can we use new data types to answer known and as-of-yet-unknown questions?
In this shifting universe, even the job of the so-called "data scientist" is up in the air, said SCS instructor Benjamin Bengfort. Is he or she a specialist in statistics? Traditional modeling? Risk analysis? Computer science?
"What is that role, and what does it look like?" Bengfort asked. "It's a very important question."