Five Sports Industry Management Students Make Their Mark on the NCAA at Emerging Leaders Seminar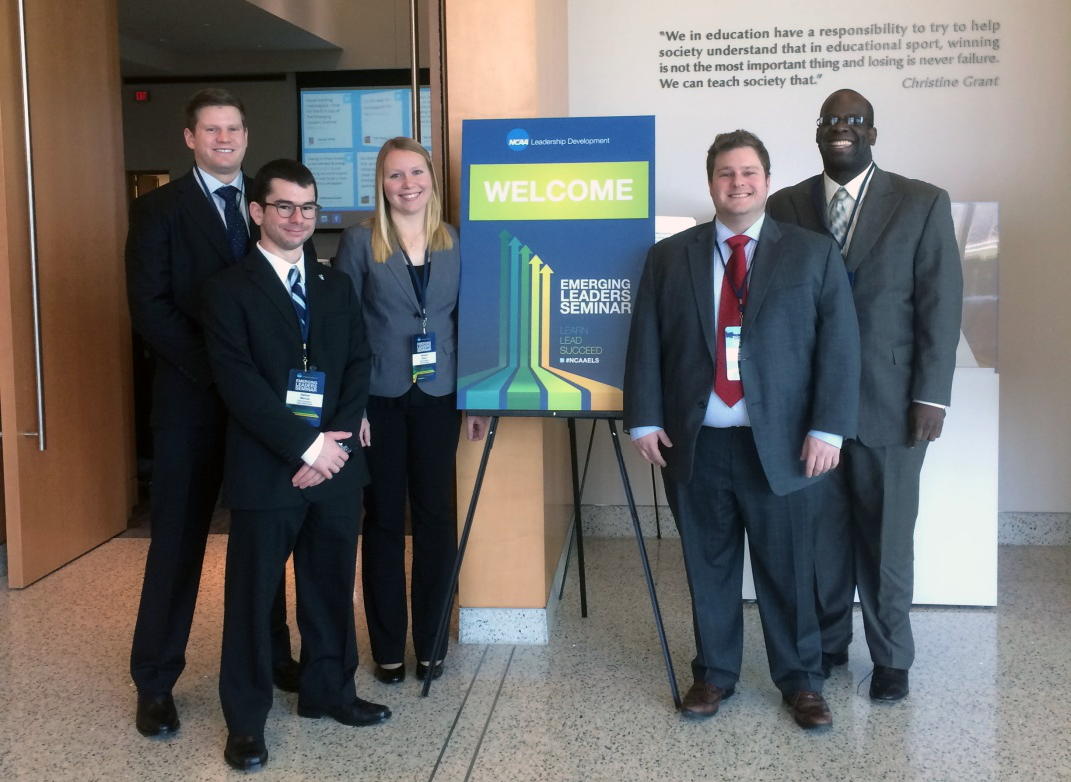 Featured from left to right: SIM students Tyler Elvin, Nathan Marcus, Amanda Braun, Daniel Nathan-Heiss, and Jameil Johnson.
Daniel Nathan-Heiss didn't need a personality test to tell him he's an extrovert, but like the other students at the NCAA Emerging Leaders Seminar, he got one anyway.
The idea was to show that different people bring different skills to a team—and that teamwork is essential in the field of sports management.
"I like to talk to people—that's my thing," Nathan-Heiss said.
He had ample opportunity to do just that in late January, as more than 200 graduate students from around the country met for the start of the three-day conference in Indianapolis.
"Do you think you know everyone yet?" joked Jameil Johnson, who, like Nathan-Heiss, is a master's candidate in the Sports Industry Management Program (SIM) at Georgetown University's School of Continuing Studies.
Barely an hour had gone by.
Maybe not, Nathan-Heiss conceded later, but "by lunch on the first day, I think I met as many people as I possibly could."
A Booming Field
Sports management is a diverse and growing field that includes everything from managing small college athletics to marketing for the NFL. As interest in both intercollegiate and professional sports has boomed in recent years, the industry has expanded to become a market sector all its own, said SIM Program Director Laura Regensburg.
"It's always evolving," Regensburg said. "What the sports industry was five years ago isn't what it is today—and it will be different five years from now."
Networking is important in any business, but it is especially critical in sports management, where everyone seems to know everyone else in the profession, or at least a good number of them.
Sam Yarin, SIM Program Manager, recalls an employer putting it this way: "95 percent of the people we hire are because someone else put their resume on our desks."
The NCAA selected five Georgetown students for the leadership conference, making the SIM team one of the largest. Also attending, along with Johnson and Nathan-Heiss, were Amanda Braun, Tyler Elvin, and Nathan Marcus. Interestingly, most of those selected want to work in college sports and make a difference in the lives of student-athletes.
Braun, who attended the University of Rhode Island as an undergraduate, became interested in sports management though her roommate, a volleyball player, and later worked in university's sports department.
"I like to be able to interact with student-athletes and let them know I'm there for them," Braun said.
Internships Provide Experience, Contacts
At Georgetown, most students participate in an internship, many of them at the Georgetown Athletic Department, as well as at other college and professional organizations. Elvin, for example, has an internship with the NFL Players Association, where he helps recently retired players adjust to life outside the world of professional sports.
Marcus previously worked in sports marketing for the football team at Rutgers University, but at Georgetown he's done promotion, marketing, and event planning for the men's soccer and women's basketball teams. Through his Georgetown internship, he has met his counterpart at Seton Hall, one of the Hoyas' Big East rivals, and has been able to collaborate with him on marketing ideas. After graduating, Marcus would like to work for a small athletic program where he can be involved with a variety of sports.
Johnson is pursuing sports management as a second career, after finding work as a lawyer not as fulfilling as he expected. But he feels right at home in sports management, and was convinced of that after meeting so many like-minded people at the conference.
"I have so much in common with these people," Johnson said. "It was amazing."
Johnson has used his skills as a lawyer in his internship at the Georgetown Athletic Department, where he works with compliance in NCAA rules and other regulations. He said it was especially rewarding this fall when he was able to obtain an additional year of eligibility for an athlete who was injured after only playing in one game of the season.
At the NCAA conference, the five Georgetown students came to know each other well. And, whether extrovert, introvert, or some personality in between, they went out of their way to meet the other students and share their passion for sports.
"We really represented Georgetown well," Johnson said. By the end of the conference, "everyone knew about Georgetown."