PRCC Student Leads the Field at NASCAR Internship Program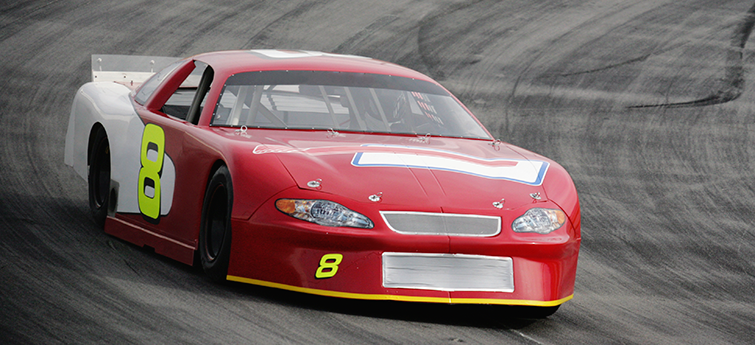 Chloe Kerr knows basketball. A standout player for the University of Southern California in the early 2000s, she averaged 12 points and 6.5 rebounds her senior year, then went on to play professionally in Europe and Australia.
Kerr doesn't know NASCAR—make that didn't know NASCAR—before last summer. But her lack of familiarity with motor sports didn't deter the master's candidate at Georgetown University's School of Continuing Studies (SCS) from applying for a coveted spot in the NASCAR Diversity Internship Program last summer, one of about 325 hopefuls vying for 14 spots.
She was accepted and had an excellent experience at the organization's headquarters in Daytona Beach, Florida. But the story doesn't end there. On February 20, Kerr was presented with the NASCAR Diversity Internship Participant Award after being selected from a pool of about 50 interns who had worked in the program over the past three summers. NASCAR said that Kerr, a student in Georgetown's Public Relations & Corporate Communications (PRCC) program, "displayed the utmost professionalism and immediately make an impact on the Integrated Marketing Department."
"Chloe was a solid contributor from day one with NASCAR," said David Higdon, vice president of NASCAR's Integrated Marketing Communications. "She embraced every challenge with great enthusiasm, and over-delivered on every occasion. I believe Chloe gained valuable experience during her time with NASCAR, but just as important is the benefit to our team from having high performers like Chloe."
Kerr's instructor in PRCC's Personal Branding class has been equally impressed.
"She's thoughtful and funny," said Carol Blymire, principal of Blymire Communications in Washington, D.C. "What I like about her is she is so smart and so approachable. She is willing to help other students. She's a little shy, but when she has something to say it's always thoughtful and ultimately benefits the other students in the class."
NASCAR's internship is paid, which is rare in popular fields like professional sports, and it allows extremely accomplished students to work in the areas that match their expertise, whether that is engineering or marketing and communications.
"It's one of the most unique programs in sports," Gloria Molina, NASCAR's Manager of Multicultural Development, said of the 10-week internship.
At NASCAR, Kerr worked on the "Salute the Troops" program that began over the Memorial Day weekend and continued with events throughout the racing season. She also promoted the internship program itself, and was especially proud of her success in attracting two major media outlets to cover the experiences of two of the interns from Puerto Rico.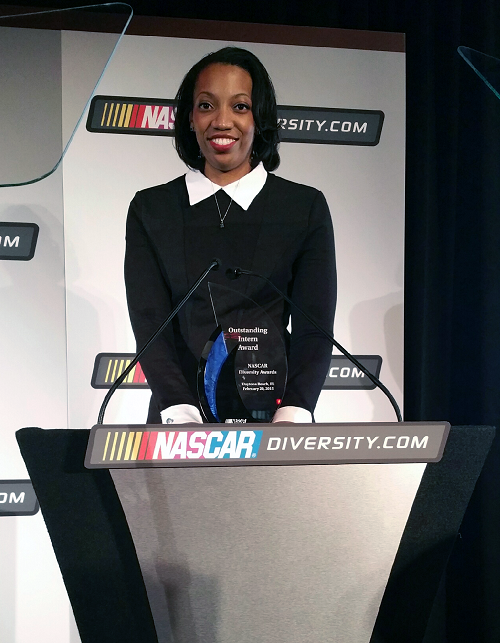 "Diversity, inclusion, in sports—that's what I want to focus on," Kerr said.
NASCAR may be a largely Southern sport with a predominantly white fan base, but that's changing; and the industry has been working hard in the past decade to expand its reach both geographically and among young people and minorities.
"Think young. Think diverse," Ron Schneider, founder of the marketing company Sports Dimensions, said at an Arizona State University conference last year covered by SportsBusiness Journal. "NASCAR must be relevant in these two areas moving forward."
In 2004, NASCAR started its "Drive for Diversity" program, which focuses on talented minority and female drivers with local and regional racing experience. Nine years later, Darrell Wallace Jr., won the Truck Series Race in Martinsville, Va., becoming the first African American driver to win at NASCAR's national level in 50 years.
"NASCAR's not where it wants to be," Kerr said. "But it's moving in the right direction."
NASCAR is also working to diversify pit crews and is reaching out to college athletes in other sports to try to interest them in auto racing. "It just provides another opportunity for athletes to compete at this high level," Molina said.
Speaking of high-level competition, Kerr said her Georgetown experience was key to her getting selected for the internship. She will graduate in the fall, and is taking Crisis Communications this semester, in addition to Blymire's Personal Branding class.
"I couldn't have asked for two better classes," she said.
For someone who didn't know much about motor sports before last summer, Kerr has learned a lot; and she was even able to get a little taste of what NASCAR drivers experience when they careen around the track at speeds approaching 200 miles per hour.
"I was in a pace car, and we got up to 150 miles per hour," Kerr said. "That's pretty fast."