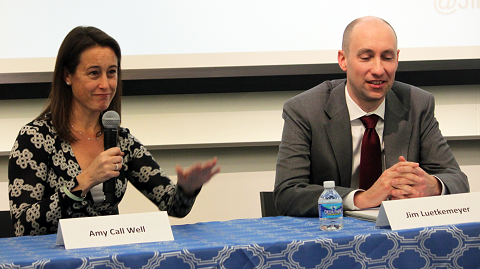 "What we need are people who can look at content and make it compelling," said Amy Call Well, Director of Global External Communications for EY. On her left is Jim Luetkemeyer, a Partner with Widmeyer Communications.
Managers and supervisors in communications are seeking employees with digital acumen as well as strong competency in the traditional skills of writing, editing, and speaking, according to a survey conducted by the Division of Professional Communications (DPC) at Georgetown University's School of Continuing Studies (SCS).
After surveying more than 200 hiring managers and communications experts, DPC also concluded that personal skills, an eagerness to learn, and an ability to pick out salient points from prodigious amounts of information are among the skills employers are looking for most—and, often, having a hard time finding.
"There is a lot of content in the world," Amy Call Well, Director of Global External Communications for EY, an international professional services firm, said at an SCS panel discussing the Industry Leader Survey Analysis and accompanying Resource Guide. "What we need are people who can look at content and make it compelling. That's what's lacking."
The survey follows last year's introduction of the Division's Strategic Career Planning and Management course for graduate students in the Journalism and Public Relations & Corporate Communications (PRCC) programs. Starting this fall, the Division will also offer degrees in Global Strategic Communications (GSC) and Integrated Marketing Communications (IMC).
Senior Associate Dean Denise Keyes asked: "How can we glean more data from the folks in the industry who are actually hiring our students?" To gather this data, the Division issued an electronic survey to hiring managers asking what they seek in job applicants.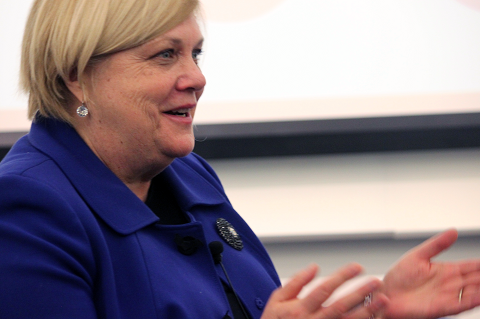 Denise Keyes, Senior Associate Dean of SCS's Division of Professional Communications, explains the purpose and methodology of the employer survey.
The survey data indicated that the career-planning course content is closely aligned with what employers seek. Furthermore, DPC encourages students to use this data in planning their courses and positioning themselves as strong hiring candidates upon graduation. Beyond the general conclusions, some of the open-ended responses, included in an appendix to the report, are revealing. In response to the question, "What skills are missing in applicants today?" employers said:
We still don't see the kind of writing quality that we'd like from candidates coming out of school. Nothing makes a good impression like a well-written cover note and resume.
It's less about skills that are missing and more an understanding that employers are looking for committed people who understand how to work and think.
Sometimes too much reliance of social media, losing the understanding that traditional is very important and social is simply a way to distribute it. You can't only communicate in 140 characters.
While candidates shouldn't rely solely on social media, a strong online professional presence will help candidates get the interview. For example, the survey found that 97 percent of employers use LinkedIn to search for potential employees, and 94 percent look up job candidates on social media at some point during the hiring process. They're attempting to answer, as panelist and SCS faculty member Laurie Ann Phillips put it, "Just who are you as a person and as a professional today, and just where are you leaving a digital footprint?"
"If you're not Googling yourself," Phillips added, "you should be Googling yourself on a regular basis."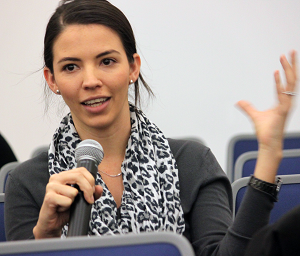 Audience member asks about the skills employers are looking for in media and communications.
The survey also found that 83 percent of employers expect to see a portfolio of work during the hiring process. But a portfolio doesn't necessarily tell them how an applicant performs under pressure, or what a piece looks like before editing. That's why 53 percent of employers give applicants writing tests.
"We want to see just how sharp people are in picking out the salient points and also telling a story," said Jacqueline Sibanda, another panelist and a Program Officer with the Health Results Innovation Trust Fund at the World Bank.
It's always a good idea for job searchers to be courteous and friendly with everyone they meet, but it's perhaps even more critical in the digital age, when people can have hundreds, or even thousands, of real or virtual friends.
"Be gracious to absolutely everyone," Call Well said, "because you don't know where you're going to end up"—or where they'll end up.
Sometimes that takes a little humility, something employers said can be lacking in some young applicants.
"Remember—it's not really about you," one employer wrote. "Yes, you are very special, but that shouldn't be the focus of the interview. Remember, they are hiring because they have a problem/need and are looking for a solution. They are wondering if you are the solution. So, throughout the interview process, show them how you can help solve their problems!"
Panelist Jim Luetkemeyer, a Partner with Widmeyer Communications, took that advice to heart many years ago when he began an internship at a congressman's office on Capitol Hill. He had just come from Oklahoma State University, where he was editor-in-chief of The Daily O'Collegian, supervising a staff of 50 and having, as he put it, "more responsibility than anyone at that age should have."
"And my first task was to get the congressman his bagel," Luetkemeyer recalled.
After reflecting on where he had been, in terms of responsibility, and where he might be going, young Luetkemeyer made a decision.
"I'm going to get the congressman the best poppy seed bagel," he said. "I'm just going to do my job as best as I possibly can."
Wondering which Georgetown communications degree will best position you for the next step in your career? Check out our degree comparison chart.
Learn more