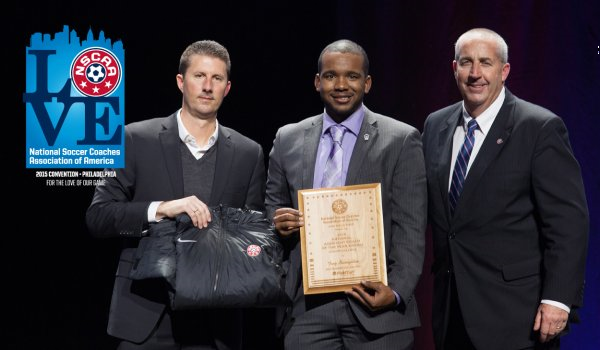 Harvey "Trey" Livingston receives the 2014 National Junior College Assistant Coach of the Year award from the National Soccer Coaches Association of America (NSCAA) at the group's convention in Philadelphia. On the left is Awards Manager Steve Veal, and on the right is NSCAA President George Perry.
Harvey "Trey" Livingston loved lots of sports when he was in kindergarten—baseball, basketball, and a new one he was learning that involved kicking a ball around a very large field.
"I didn't know much about soccer," said Livingston, who grew up in Sacramento, California. "But my two best friends growing up were going to play on a team, so I wanted to do it too."
Now, more than two decades later, Livingston has learned a lot about soccer. A 2012 graduate of the Sports Industry Management Program (SIM) at Georgetown University's School of Continuing Studies, he was recently named the 2014 National Junior College Assistant Coach of the Year by the National Soccer Coaches Association of America (NSCAA). That followed another honor, when he was among 15 men and 15 women selected from more than 600 applicants for NSCAA's "30 Under 30" Program.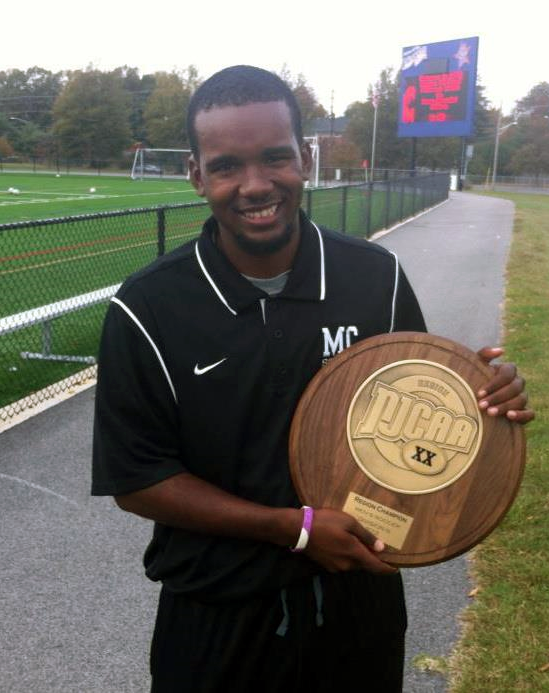 Livingston holds the National Junior College Athletic Association (NSCAA) Region 20 award.
In just over three years at Montgomery College, Livingston has coached 15 All-Conference, 13 Regional, and six All-American players. He said one of his aims as a coach is to get players to focus on "the whole picture of what we're trying to do" as a team and learn to "adapt to the situation, based on what the opponent is giving him or her."
"Growing up playing three sports year-round in my youth, the one difference I noticed about soccer very early in life is that you truly only have halftime to address major concerns as a coach," Livingston said. "So you have to be prepared going to any games and be sure that the players are a cohesive team and will be able to solve problems together instead of waiting for all the information to come at halftime."
As a teenager, Livingston was a star at Sacramento's Bella Vista High School, where he was a four-time All League varsity performer in soccer and a three-year varsity starter in basketball. He was also a three-year starter on the Division I soccer team at Howard University, where he led the team to a regional ranking in the North American division for the first time in nearly a decade before graduating magna cum laude.
While working on his master's degree, Livingston interned on the staff of the Georgetown men's soccer team, which won the Big East Blue division title and advanced to the second round of the NCAA tournament.
In addition to coaching at Montgomery College, Livingston also works for Soccer Shots, a program that teaches soccer skills to preschool and elementary school students. He currently serves as the Program Director for the organization's Prince George's County, Montgomery County, and Washington, D.C., region.
Livingston said that coaching soccer, from college players to two year-olds ("who mostly want to just kick the ball"), has never felt like work. His goal is to become a Division I college coach. "But honestly," he added, "if I'm coaching soccer, I'm happy."