SIM's Jimmy Lynn Takes His Passion for Sports, Fitness, and Helping Young People to a New Congressionally Chartered Foundation
The high-level committee was almost assembled, but it was missing one piece.
"I have entertainment," Jimmy Lynn's friend told him, meaning someone from the entertainment industry. "But I need a sports guy."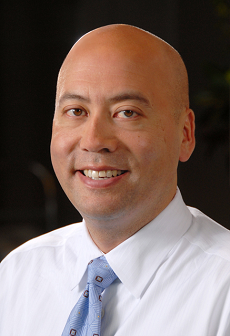 Jimmy Lynn—sports entrepreneur, former AOL executive, and current special advisor and full-time faculty member for the Master of Professional Studies in Sports Industry Management program (SIM) at Georgetown University's School of Continuing Studies—is definitely a "sports guy," but that hardly defines him.
"My passion is mentoring children from low-income families and first-generation college students," said Lynn, who saw the position on the board of directors of the new National Foundation on Fitness, Sports, and Nutrition (NFFSN) as a way to help young people and provide opportunities for sports marketing students at Georgetown.
That was in 2010, when NFFSN was chartered by Congress to raise funds for the venerable, 60-year-old President's Council on Fitness, Sports, and Nutrition. In February, Health and Human Services Secretary Sylvia M. Burwell appointed Lynn and four other business leaders to the foundation's board of directors.
For the youthful and energetic Lynn, that journey was part of the experience.
He remembers more than a year ago when he was told that he had to be sponsored by a member of Congress and went to visit Senator Patrick Leahy, the Democrat from Vermont. Lynn spoke of his desire to help first-generation college students and told the Senator that he was mentoring more than a dozen young people at Georgetown.
Leahy was moved.
"Senator Leahy stood up and put his hand on my shoulder, and said, 'Don't change,'" Lynn recalled. "He said, 'Jimmy, my family came over from Ireland in the 1800s, and I was the first one to go to college.'"
Lynn spent 14 years at AOL before founding JLynn Associates, a sports marketing firm, in 2009. Four years later, he and two colleagues started Kiswe Mobile, which streams sporting events for the burgeoning mobile phone market. Perhaps the company's biggest achievement has been Mystics Live, a streaming service which enables Washington Mystics fans to see games from multiple camera angles on their smartphones and tablets.
It's a busy schedule, which Lynn makes even busier by serving as an adjunct faculty member at Georgetown's McDonough School of Business. But it keeps him well connected in the D.C. market, something that will help Lynn and the other board members in their efforts to raise awareness for fitness and bring corporate support to the president's council. Indeed, part of the job, Lynn said, "is leveraging our rolodexes."
Lynn, who is also paying the tuition for three students to attend colleges other than Georgetown, said the new foundation will provide internship opportunities and other connections for SIM students. And he hopes it will highlight an issue that he says is critical to the nation's health: reducing child obesity—something that must be addressed with both exercise and healthier diets.
"They added the word 'nutrition' to the title" of the President's Council and the new foundation, Lynn said, "which I think is fantastic."