PRCC Alumni Profile: Alisha Stewart
Meet Alisha Stewart (G '14, Public Relations & Corporate Communications)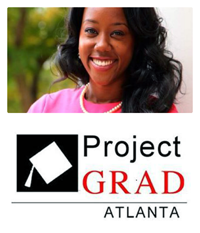 Alisha Stewart (G'14)
"…let Capstone be your moment to go all out and prove what makes you unique as a communications professional. There may be some sleepless nights (and tears) to come, but it is all worth it in the end and the organization that you are working with will be forever grateful for the value you add to their work."
As students approach Capstone (a.k.a the final hurrah before completing the PR/CC program) excitement and anticipation abounds. Along with those emotions may come the feelings of stress and hesitation, but one thing is for certain — the experience is uniquely challenging and rewarding. Students are given the opportunity to exercise their strategic communications and consulting skills. As a result, students master an approach to strategic communications planning that can be applied to every sector. Some students even get hired by their clients; Alisha Stewart is one of them.
I had the pleasure of getting to know more about Alisha's capstone experience and how it ultimately led to her successfully landing a new job.
Chelsie Pope: What was your method for choosing a Capstone client? What made you choose Project GRAD Atlanta and how did you reach out to them? What is one tip that you would give for consulting or client relations?
Alisha Stewart: My method for choosing a Capstone client was pretty simple. I knew I wanted to move back home to Atlanta at the end of this program, so regardless of whether or not this potential client was to hire me, I needed something in my portfolio to show I had recent experience working with a client there aside from my previous internships. Originally, I had my eyes set on an organization that had been facing a crisis since 2009 and talked with them for at least three weeks before I was told that the entire communications department, including my point of contact, would be leaving their jobs within weeks. That's when I began to panic. Luckily, Project GRAD Atlanta is one of the original organization's closest partners, so I reached out to them first by email and then followed up with a phone call to the executive director after about a week.
My advice: Don't panic! Yes, you need to be proactive and it is ideal to have a client locked in prior to starting the course, but it is not the end of your world. Once you have your client, it is crucial to establish a weekly or bi-weekly check-in. Send an agenda ahead of each meeting to set expectations and guide the conversations to get the answers you need to make your plan realistic. Remember, the person you're talking to needs your guidance and insights so that once you turn over your plan, your client sees their contributions to the final product.
CP: What type of primary research did you conduct for your client? How do you figure out what types of questions to ask in order to get the information that you need? How did you stay organized and meet all your deadlines for capstone?
AS: For primary research, I interviewed all of the Project GRAD Atlanta staff via Survey Monkey and telephone interviews. I asked open-ended questions to determine what they wanted to see implemented and how they thought it could fit into everyday operations. To stay on track, I limited my work to no more than 20 hours per week, which included my weekly meeting with my Capstone advisor Jessie and talking with the Project GRAD executive director once a week as well.
CP: What methods did you use to brainstorm strategies and tactics? How did you pull all the elements together to tell a story for your plan?
AS: While brainstorming my strategies and tactics, I kept in mind that this is an organization that never had a communications strategy and that their budget would be minimal. Therefore, something as simple as an annual report built into the website for free would make a huge difference. I had to remind myself that the plan had to be as realistic as possible, not knowing if they would even have a communications person to implement it, so it all had to be something feasible and valuable for a programs director or administrative assistant to do in addition to their normal duties. There were times I felt uncertain about whether or not my recommendations could be accomplished within a year, but ultimately my recommendations were timely things the organization needed.
CP: How did you condense your final plan, which is over 30 pages, into a 5 minute pitch presentation? What key points did you highlight in your presentation? What tips do you have for producing a polished final plan?
AS: For my final pitch, I decided to take a high-level approach, using the metaphor of a tree growing from a seed to show how Project GRAD Atlanta's impact would flourish with the implementation of this plan. I did not mention anything specific from my plan, but chose instead to focus on my consulting approach: managing client expectations, looking at the big picture, and sustainable recommendations. For producing a final plan and pitch, I would advise students to finish the writing as far ahead of the deadline as possible to leave time to design a creative piece of work that you are proud of. I spent about $15 on an awesome graphic design site, ditching the traditional PowerPoint. I was happy when my final pitch stood out—and ultimately, my client was pleased as well.
CP: Did you pitch your final plan to your client? What would you say is the biggest factor in why you were hired by your Capstone client? What are your final thoughts/tips for having capstone success?
AS: Prior to the final pitch at Georgetown, I actually took a trip to Atlanta and met with the GRAD staff and board members to give them a preview of what they were to expect when I delivered the final plan. I did it in the same five-minute format as our graded pitch and that allowed me to get their feedback and really hone in on what content made the most impact. After turning in my final plan, of course, I completely edited it according to Jessie's (my advisor) recommendations and redesigned it before sending to their board chairman and communications chair via Issuu.com. The whole time, I framed my work as something that I could do alone, if needed. Those are my exact responsibilities at Project GRAD today. I am thankful to now have a coordinator working with me to manage the web, but overall, I made sure these strategies and tactics could be managed by one person.
Being successful in Capstone is all about keeping your cool and knowing that our professors and professional experience has prepared us for this. I'm so grateful to have taken Cause Consulting and Grassroots Communications the previous semester and to have taken Strategic Career Management at the same time. I definitely credit those last three classes and professors with getting me where I am now; I just feel so complete and confident in my consulting skills.
CP: Final thoughts or tips for capstone success?
AS: My last piece of advice is to just let Capstone be your moment to go all out and prove what makes you unique as a communications professional. There may be some sleepless nights (and tears) to come, but it is all worth it in the end and the organization that you are working with will be forever grateful for the value you add to their work.