Thinking Long-Term: Hospitality Management Program Talks with Undergraduates About Careers in the Industry
Undergraduates may like to party, but how keen are they on throwing someone else's party?
Naz Yavuz wasn't sure. A sophomore at Georgetown's McDonough School of Business, she grew up in Istanbul, Turkey, in a family that owned and managed hotels, and she knew from an early age that the hospitality industry was for her.
But how many of her peers would come to the inaugural meeting of her proposed Hospitality Club? About 20, as it turned out—not a bad response for an icy weekday night in the middle of spring midterms.
"I was surprised, because it's new," Yavuz said of the club, which is going through the process of being recognized by the University. "I didn't know how much they would want to learn about a new industry."
The meeting included a panel discussion by experts, assembled by Gray Shealy, executive director of the master's in Hospitality Management program at Georgetown's School of Continuing Studies, which explored where the industry is going, what career opportunities are available, and an even more basic question, namely: just what is hospitality anyway? (Short answer: An exciting, challenging, global industry that is growing and changing so fast that questions like "What is hospitality?" will be relevant ones for years to come.)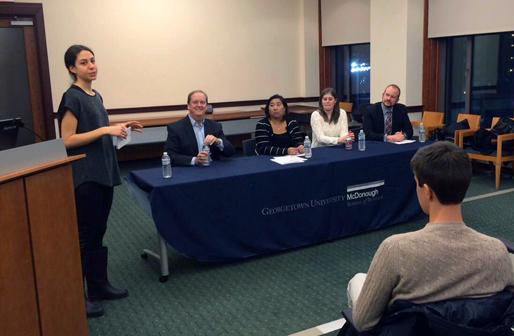 Georgetown student and Hospitality Club co-founder, Naz Yavuz in front of panel members at their inaugural meeting.
The panelists included (left to right): Stuart Damon, Hospitality Management faculty member and COO and CFO of Star Restaurant Group; Kristie Chang, a Hospitality Management graduate student and director of events and account management for Vicki Johnson & Associates; Jessica Moss, senior editor of AOL Travel and Mapquest, and a Georgetown alumna; and Gray Shealy, executive director of the Hospitality Management master's program.
"What intrigues me the most about hospitality is that it plays a key role in bringing together people from different corners of the world," said Claire Carrique, who co-founded the club with Yavuz. "People who speak different languages, have different backgrounds and cultures, and can share their unique experiences and perspectives, creating an international network."
Unlike Europe, which has a long tradition of treating hospitality as a career, many people in the U.S. get into the travel, hotel, or restaurant business almost by accident, said Shealy. However, that is changing rapidly as the industry becomes more globally competitive and travelers become more sophisticated. Today, hospitality needs highly skilled people from a variety of disciplines—not only people with business and management training, but also those who can speak more than one language and adapt to foreign cultures.
The Hospitality Management program, which is strategically located in Washington, D.C., one of the major hospitality capitals of the world, plans to help direct this professionalization of the industry and become a resource for the entire University and its students, Shealy said.
That includes students like Yavuz, who had the advantage of growing up in the hotel business, where she helped her family by working at the front desk and in finance.
"I tried to do everything, so I would learn, little by little, how to get into the business," she said.
A great ambassador for the industry, Yavuz tells friends at Georgetown that hospitality can relate to every aspect of their studies.
"I don't see it as a separate thing from my life," she said. "I can apply it to anything. I think of it as anything that makes a person smile."