Journalism Faculty Members Receive 11 Awards from White House News Photographers Association
Two faculty members from the Master of Professional Studies in Journalism program at Georgetown University's School of Continuing Studies (SCS) have won multiple awards in the "2015 Eyes of History" contests, sponsored by the White House News Photographers Association (WHNPA).
Whitney Shefte, senior video journalist for The Washington Post, and Ben de la Cruz, multimedia editor at NPR, won a total of 11 awards:
2015 Eyes of History: Multimedia Contest
Whitney Shefte:
Ben de la Cruz:
2015 Eyes of History: Video Contest
Whitney Shefte:
First Place, News Special Reports/Series—The Washington Post, "Social Spirals"
Second Place, Promotional—The Washington Post, "We Are Storyline"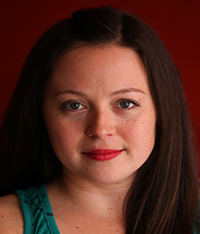 Whitney Shefte
Senior Video Journalist
The Washington Post
Shefte's second-place multimedia feature story—"From Clubfoot to Climbing: Double Amputee Lives Life of Adventure"—chronicled the life of Lacey Phipps, a courageous young woman who refused to let her handicap keep her from cycling, rock climbing, and Irish dancing.
"Lacey is definitely an inspiring woman," Shefte said. "She's overcome so much and has turned her suffering into something really positive. She's also super active, which helps when shooting a video story. Videos are almost always better when action is unfolding, so I enjoyed chasing her around to her different activities."
Shefte also won a second-place multimedia award for her coverage of domestic abuse in rural Alaska. In another award-winning video, she told the story of a Native American woman from southern Arizona who was severely abused by her estranged husband, a white man. Because he lived outside the reservation, he could not be prosecuted by tribal police. However, in 2013 the Violence Against Women Act was amended to enable tribal prosecutors to charge nonresidents for domestic crimes.

Ben de la Cruz
Multimedia Editor
NPR
De la Cruz won four awards in the Multimedia Contest. One first-place award cited his and other journalists' work on "They Are the Body Collectors: A Perilous Job in the Time of Ebola." The story describes the work of a small team of men in Monrovia, Liberia, who risked their lives to collect cadavers during the recent Ebola epidemic. The story reveals the workers as deeply religious public servants who performed a dangerous task, often over the protestations of terrified family members.
"The last defense is to pray," an NPR reporter said in the radio report as the men stood, facing one another, in their white protective suits. "The men gather in a circle and touch hands."
De la Cruz was also part of a team that won an Award of Excellence for "How Will You Die?," an unexpectedly whimsical look at an otherwise grim topic. He and two other journalists were also cited for their work on "The Blind Woman Who Saw Rain," which told the story of a Scottish woman who developed a rare form of partial blindness that prevented her from recognizing faces but allowed her to see some moving objects. His other first-place award was for "The Mystery of the Missing Martins," a piece about an ornithological puzzle.