Georgetown SCS Hosts UPCEA Leadership Reception, DC Public Schools Chancellor Kaya Henderson Delivers Keynote [video]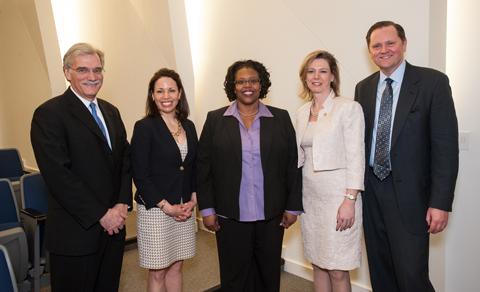 From left to right: Georgetown Provost Robert Groves; Amy Heitzman, Chief Learning Officer, UPCEA; DC Public Schools Chancellor Kaya Henderson; Georgetown SCS Dean Kelly Otter; Robert Hanson, CEO, UPCEA.
The sun was setting on an unseasonably warm March Sunday and shadows danced on SCS's floor to ceiling glass façade. Though evening was descending outside, the energy and excitement at the SCS campus was palpable, as old friends, colleagues, and higher education thought-leaders greeted each other and shared recent developments at their institutions.
On Sunday, March 29, deans, provosts, and continuing and professional education scholars from institutions and organizations across the country joined leaders from the University at the Georgetown SCS campus for the UPCEA 100th Annual Conference Leadership Reception.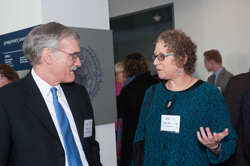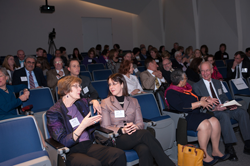 UPCEA, or the University Professional and Continuing Education Association, is the long standing and much lauded industry association for continuing and professional education institutions. Based in Washington, D.C., the group held their 100th annual conference at the Renaissance Hotel, a few blocks from the SCS campus, from March 30 to April 1.
As a proud member institution, Georgetown SCS partnered with UPCEA to host their pre-conference leadership reception at our downtown campus.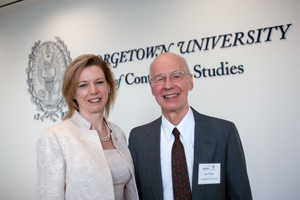 Dean Kelly Otter and former Dean Joe Pettit
"Our state of the art campus was the perfect location to hold this year's leadership reception," said Dean Kelly Otter. "The design of our building and its location and accessibility in downtown Washington is symbolic of the mission of continuing and professional education – to constantly adapt and innovate to meet the needs of our students."
Dr. Joe Pettit, Dean of Georgetown SCS in 1974, when the first liberal studies degree programs were launched, was on hand to speak with attendees about the evolution of the School over the decades. "We were so fortunate to have Dr. Pettit with us because his work provided the foundation from which the School's degree programs were built," said Dean Otter.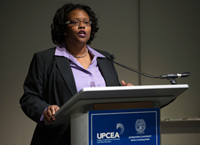 The evening's event featured a keynote address from Kaya Henderson (right), Chancellor of DC Public Schools, who spoke about her efforts to implement high standards and develop the District's teaching force.
You can watch clips of Chancellor Henderson's speech below:
The leadership reception prefaced what was to be a celebratory week for Georgetown SCS. On the second day of the conference, leaders from the School accepted the 11 Hour Award for Leadership in Times of Crisis for the Furloughed Employee Program of 2013.
CCPE staff members Amy Levine and Kyle Burns also presented at the conference. Their presentation, titled, "From Pyramids to Puzzles: Building an Empowered Administrative Team," was praised for its original content.